TOKYO, November 20, 2019 – FRONTEO, Inc. ("FRONTEO") (NASDAQ: FTEO) (TSE: 2518) a leading provider of artificial intelligence ("AI") based big data analysis services, announced today the launch of Data Cellar, a storage service for data storage media. 
Data Cellar is a service that provides long-term storage in a safe environment for storage media containing various kinds of digital data belonging to companies. While companies may need to save data (e.g., data on computers of exiting employees, backup data created when replacing computers) for a certain period of time, finding sufficient space and a suitable environment (temperature, humidity, vibrations, etc.) inside the company is an issue. It is also necessary to consider data quality (risk of degradation, deletion, etc.).
Based on its experience to date supporting fraud investigations and international litigation, FRONTEO decided to offer the new storage service in order to meet the needs of clients. It responds to requests from customers who have trouble handling data that may not be discarded due to a litigation hold (*1) or who are concerned about the removal of confidential information by exiting employees. For example, clients may wish to save data in a location that ensures its impartiality/validity as evidence and prevents it from being deleted by accident or wish to extract data quickly if it becomes clear that an information leak or other fraud has occurred.
Storage media received from customers are placed in specialized duralumin cases with antistatic cushioning material and transported in dedicated vehicles with GPS and electronic locks. Moreover, they are stored within a highly earthquake-resistant building with security cameras, infrared sensors, and security personnel who are on site 24/7. When media are removed from the storage facility, a transportation service that prioritizes privacy, security, and traceability is used. Delivery is possible within one business day in the Tokyo metropolitan area or within two to three business days in suburban areas around Tokyo. Along with storage and transportation to and from the facility, the service also includes inventory and disposal (electronic and physical destruction of storage media and issuing of data deletion/disposal certificates), so it may be used as a means of managing assets.
As part of its storage service for data storage media, FRONTEO also offers a data hosting service. Since this enables data to be accessed remotely, it makes it possible to promptly meet requests for information if data needs to be obtained urgently.
Advantages of Data Cellar storage service for storage media
Impartiality
Having important data stored by a third party provides peace of mind that it will not be falsified or destroyed by someone within the company
Risk management
Since the service also covers data security procedures prior to storage (forensic copies), it makes it possible to safely store original data and data that should be preserved
If data is required for a fraud investigation or litigation during the period when it is being stored, it may rapidly be transferred for digital forensics or e-discovery
Asset management
After organizing electronic storage media belonging to the client (hard disk drives, backup data, etc.) using a goods management system, FRONTEO will store them in a contracted external warehouse and perform information asset management on the client's behalf
FRONTEO also conducts inventory of the condition of stored media and sends the results to the client in list form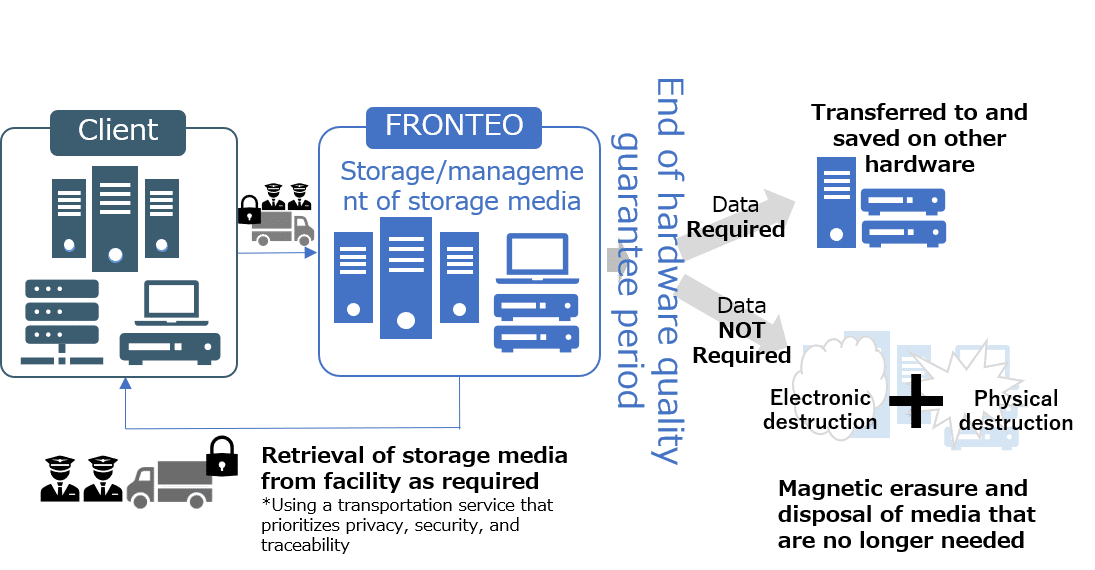 *1 Litigation hold: Measure by which the court or judicial authorities requires that all relevant materials and information be securely saved during the judging process if it is deemed possible that they will be examined.
Read more about "Data Cellar" (in Japanese only):
https://legal.fronteo.com/datacellar
About KIBIT
KIBIT is an AI engine developed by FRONTEO. KIBIT is a word coined by combining "kibi," a Japanese word meaning "subtlety," and "bit," the smallest unit of digital information, in order to indicate an AI capable of understanding the subtle elements of human behavior and personality.
About FRONTEO, Inc.
FRONTEO was founded in Japan in 2003 as a technology-enabled eDiscovery and litigation support services provider. By expertly leveraging proprietary technology to boost operational efficiency, the company has expanded globally and into the healthcare and marketing markets. In the U.S., FRONTEO leverages the right mix of best-in-class and proprietary technologies to provide ultra-efficient litigation support services across the entire eDiscovery Reference Model (EDRM). FRONTEO's proprietary AI technology, KIBIT, supports the analysis of big data based on big data analysis, behavior informatics and knowledge acquired through its experience in providing litigation support services.
For more information about FRONTEO, contact global_pr@fronteo.com or visit https://www.fronteo.com/global/.