[Webinar held on 5/17] <Peaceful compliance measures commentary series 2nd> Site of whistleblowing response
<Online seminar co-sponsored by Nagashima Ohno & Tsunematsu Law Office / FRONTEO>


Today, how to ensure the effectiveness of the whistleblowing system is one of the most annoying challenges for many companies.In addition, with the imminent enforcement of the revised Whistleblower Protection Act, which includes the obligation to improve the whistleblower system, many companies may be busy with the operation of the new whistleblower system.
Therefore, this time, we would like to invite Mr. Daisuke Fukamizu, a partner of Nagashima Ohno & Tsunematsu Law Office, to introduce several important issues that are frequently faced in the field of dealing with whistleblowing cases.Furthermore, in the lecture, you will be asked to consider and explain important issues from the practical point of view of Attorney Fukamizu.
* This seminar is the second in a series of three seminars in which Mr. Fukamizu, a lawyer from Nagashima Ohno & Tsunematsu Law Office, explains peacetime compliance measures. Even those who have not attended the first lecture can participate, so please apply.
---
【Webinar Summary】

◆ Title: <Peaceful Compliance Measures Explanation Series 2nd> Site for whistleblowing
◆ Date: July 2022, 5 (Tuesday) 17: 10-00: 11
◆ Format: Free Webinar (Zoom URL will be sent after application)
◆ Webinar type: Zoom Webinar
---
Speakers
Nagashima / Ohno / Tsunematsu Law Office Partner 
Daisuke Fukamizu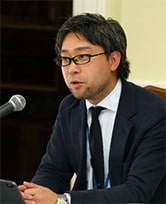 Joined Nagashima Ohno & Tsunematsu Law Office in 2008. Obtained Certified Fraud Examiner qualification in 2012. Studied EU competition law at King's College London in the UK in 2015, and then at Kirkland & Ellis LLP's Chicago office. Returned to Japan in October 1 after a year of training focusing on fields such as white color climbing.Handles many large-scale corporate cases.As a specially appointed associate professor at Shinshu University, he also conducts research activities on corporate crime at home and abroad.
ALB under 40 Asia Outstanding Legal Professionals 40 (2019)
Legal 500 Asia Pacific Next Generation Lawyers (2020)
ALB Young Lawyer of the Year (2020)


FRONTEO Inc. Director / AI Solution Business Management and President's Office Manager
Mari Yamamoto
After joining an advertising agency, she was enrolled in a risk management company.Launch the mental health care business, execute business plans, product development, marketing, and sales strategies, and lead to the top market share in the industry. In 2014, she became a director of the company and was listed on the First Section of the Tokyo Stock Exchange in 2017.
Joined FRONTEO Inc. in December 2018 and became a director in 12, managing and directing the entire AI solution business.
In the life science AI business, we will promote development in the digital health field such as diagnostic support and disease prediction using the artificial intelligence engine "Concept Encoder", and also in the drug discovery field, a drug discovery support AI system that supports speeding up the discovery of candidate compounds. To challenge new areas in life science.
In the business intelligence business, he uses the artificial intelligence engine "KIBIT" to direct the DX promotion of companies.We will also develop solutions that utilize AI in the field of economic security to support governments, government agencies, and companies.