[4/5 held webinar] <Peaceful compliance measures commentary series 1st> Survey site-Quality fraud cases as the subject
<Online seminar co-sponsored by Nagashima Ohno & Tsunematsu Law Office / FRONTEO>

Prompt initial response and accurate investigation are extremely important for resolving fraudulent cases that occur in a company.In this webinar, we will explain these important matters in line with the flow of fraudulent response, from the first response to be taken, evidence preservation, and investigation report, at the actual investigation case site, with the theme of quality fraud cases.

(Explanatory topic)
・ By what route is fraud discovered?
・ What kind of flow will be the initial response?
・ How to preserve evidence
・ How should the investigation system be created?
・ How should we consider the necessity of publication?

* This seminar will be attended by Dr. Fukamizu of Nagashima Ohno & Tsunematsu Law Office.
This is the first of a series of three seminars in which Dr. Fukamizu explains peacetime compliance measures, so please take this opportunity to participate.
---
【Webinar Summary】

◆ Title: <Peaceful Compliance Measures Explanation Series 1st> Survey Site-Based on Quality Fraud Cases
◆ Date: July 2022, 4 (Tuesday) 5: 13-00: 14
◆ Format: Free Webinar (Zoom URL will be sent after application)
◆ Webinar type: Zoom Webinar
---
Speakers
Nagashima / Ohno / Tsunematsu Law Office Partner 
Daisuke Fukamizu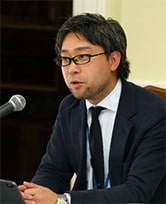 Joined Nagashima Ohno & Tsunematsu Law Office in 2008. Obtained Certified Fraud Examiner qualification in 2012. Studied EU competition law at King's College London in the UK in 2015, and then at Kirkland & Ellis LLP's Chicago office. Returned to Japan in October 1 after a year of training focusing on fields such as white color climbing.Handles many large-scale corporate cases.As a specially appointed associate professor at Shinshu University, he also conducts research activities on corporate crime at home and abroad.
ALB under 40 Asia Outstanding Legal Professionals 40 (2019)
Legal 500 Asia Pacific Next Generation Lawyers (2020)
ALB Young Lawyer of the Year (2020)



FRONTEO Inc. Technical Fellow / Certified Fraud Examiner
Shusaku Nozaki
Based on his abundant knowledge and experience in internal fraud investigation and auditing utilizing digital forensics, he is engaged in advisory work centered on the operation of the entire legal business, as well as PCF FRONTEO (FRONTEO), a company specializing in credit card information leakage investigation. Also serves as the president of a subsidiary).We also carry out activities that contribute to the development of the industry, such as conducting digital forensics training for private companies and law enforcement agencies and training a large number of investigators.
・ Tokyo Denki University Internationalization Cyber ​​Security Special Course (CySec) External Lecturer
・ EnCase Certified Examiner (EnCE)