Image MASSter Solo-4 Forensic
---
ICS
Multi-functional maintenance tool

SAS / IDE / SATA
One unit can handle everything from data acquisition to evidence viewing.By installing a large touch panel and combining it with forensic software, it is possible to perform information analysis required in the field.The ultimate multifunctional forensic tool that can obtain evidence from hard disks to various media.
Features
Image MASSter Solo-4 is a forensic tool equipped with functions from evidence acquisition to evidence viewing in a lightweight portable body.
All the basic data acquisition functions required for forensic surveys are included, and it is possible to respond immediately at survey sites where various situations are expected.
Since it is equipped with Windows OS, you can easily analyze the acquired data on the spot by installing the evidence analysis software.
Standard support for SAS / USB, which previously required a dedicated device.By using the optional adapter, it also supports IDE (1.8 inch / 2.5 inch / ZIF).One-to-one x 1 duplication at the copy source and copy destination, and cross-copy from IDE to SATA are also possible.
Achieves the fastest copy speed of 37.0GB / min.
The copy source port is set to write protection to avoid writing troubles on the copy source HDD.
Compatible with various memory devices by using the optional media card reader.
By using the optional Link MASSter (* see option) Boot CD, data can be acquired quickly even in situations where it is difficult to remove the HDD from the PC.
Hash value is generated while copying. (Compare verify is also possible)
Supports not only 100% physical copy, but also copying with a forensic image without writing.

LinuxDD format

Automatically saves acquired data management information in the log

EnCase format

Equivalent to Linux DD.In addition, data can be compressed

Equipped with a function to acquire data in network storage using Gigabit Ethernet.
Data can be acquired according to the actual evidence preservation process without changing the access date and time of files and folders.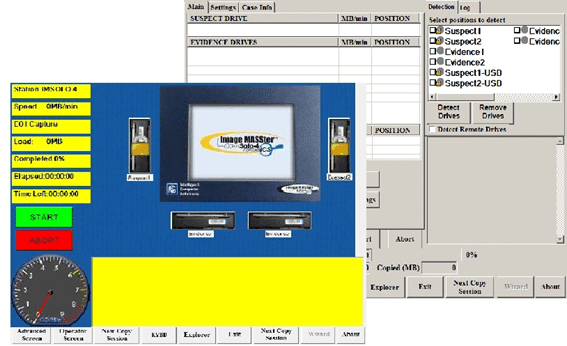 Image MASSter Solo-4 operation screen
Acquisition mode
100% physical copy
Linux DD Copy / Linux DD Restore / Linux DD Hash
E01 copy / E01 restore
Disk hash value calculation (CRC32 / MD5 / SHA-1 / SHA-256)
Disk capacity limit HPA / DCO
Disk format (exFAT, NTFS)
Log information
Operation log (HDD format, serial number, number of sectors, etc.)
Audit trail (investigator name, investigation environment, situation, etc.)
Erase mode (2 HDDs can be erased at the same time)
DoD compliant standard data erasure
Manual (specify the number of times) Data erasure
Others
Compatible drive

Original

IDE / SATA / SAS / USB

Copy to

IDE / SATA / SAS / USB

■

One IDE (3.5 & 2.5inch) compatible adapter is installed as standard.

■

Supports SCSI, Firewire, ZIF, and media cards with an option kit.

Big Drive compatible
Number of copies 2: 2 units 1 to 1 x2 (parallel copy)
Compatible compact media (using optional card reader)
Compact Flash, SD card, Memory Stick, Smart Media card
Drive lock function (write protection)


Options
Link MASSter option
LinkMASSter MAC CD
Card Reader
Conversion adapter for 1.8 inch HDD
Conversion adapter for ZIF HDD
SCSI Options Expansion Box
SCSI low voltage SCA-80 adapter
SCSI Wide to SCSI Narrow Adapter 50/60
Fiber Channel adapter
Click here for purchase and inquiries about this product
FRONTEO Inc. Forensic product charge
TEL: 03-5463-7577