Institute for Behavioral Information Science
The Institute of Behavioral Information Science conducts research and development of big data analysis technology and artificial intelligence based on behavioral informatics science.We promote research and software development such as natural language processing, machine learning, and data mining, and feed back the user experience obtained from the operation of the service to research and development.We are accelerating the R & D cycle while actually working on society.
The artificial intelligence technology developed here is installed in our Legal Tech AI product group, and contributes to the realization of a safe and secure society.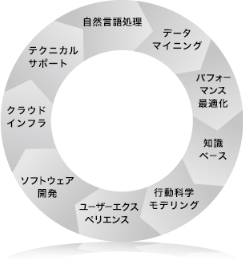 Natural language processing, machine learning
Structure unstructured data.Performs processing that goes into the hierarchy of semantics, pragmatics, and stylistics according to the characteristics of the language and the purpose of analysis.
Extract or organize valuable information from structured data
Optimize performance by making full use of file structure / algorithm improvement, parallel processing, etc.
Build a knowledge base with various attribute information
Behavioral science modeling
Analyze the structure to be analyzed using behavioral science and build a structural model
Design the experience that users get when they use the application
Develops Lit i View series, artificial intelligence (KIBIT) engine
Build, maintain, and monitor Intelligence Cloud around the world
24/7 technical support for clients, business partners and internal operations departments around the world