Continuing to be a catalyst for connecting data between industries for the social implementation of AI technology
ALBERT is a company that aims to connect the world with data science and co-create new value for a better future, with the mission of "weaving the future with data science".Maximize the value of data by multiplying the data in each industry, and continue to be a "catalyst" that connects industries to build win-win relationships - that is the "CATALYST strategy" President Takeshi Matsumoto, who preaches his company's strategy, passionately talks about his desire to contribute to securing Japan's competitiveness by focusing on training data scientists.
In this dialogue, ALBERT's President Takeshi Matsumoto and FRONTEO's President Masahiro Morimoto exchanged opinions on the themes of what society would like to achieve through business, thoughts as a manager, current issues and future prospects. .
Becoming a "catalyst" that maximizes the value of data
―― Please tell us about ALBERT's management philosophy and what you are aiming for as a company.
Matsumoto:Our company focuses on analysis, solution development and provision using advanced technology, with advanced analysis capabilities at the core.
Communication, manufacturing, finance, automobiles, and distribution/infrastructure have been designated as five priority industries, and currently these industries account for more than 5% of total sales.
In this context, we are promoting the "CATALYST Strategy" based on the idea that the quantity and quality of data are not correlated.
It's just an example, but to explain it in an easy-to-understand way, even if you analyze only bank deposit data, you can only come up with obvious facts.However, by matching part of the purchase data of telecommunications carriers with the deposit data, it is possible to see the preferences and consumption trends of the target person.Multiplying them with some life insurance data, it seems that this person is a family of three.In addition, it is possible to make an analogy that perhaps there are children in elementary school because they have this kind of insurance.In this way, by combining the data held by various industries and companies, new data value that could not be obtained by independent analysis is created, and for the first time, companies can provide optimal solutions to customer needs. increase.Of course, there are hurdles that must be overcome, such as the data policies and intellectual property of each company, but I believe that such a world view will surely emerge in the near future.In order to maximize the value of data, the key point is how we can "multiply" across industries. CATALYST, in other words, we want to play a role in drawing out that by being a "catalyst."This is the idea behind our strategy.
At the same time, the company's mission is "We are the CATALYST.", and we are conscious of being a catalyst for people.Especially common among engineers, they tend to get into their own world, whether good or bad, and devote themselves to their studies.Of course, this is important, but sometimes there is a gap between management strategy and management strategy.As long as the strategy and slogan are "CATALYST", employees must also have the idea that they can be a catalyst in the community of the company.I think so.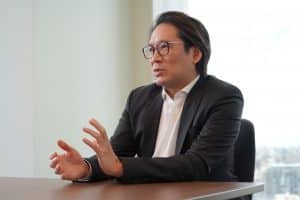 Morimoto:I think that data scientists, companies that focus on analyzing so-called data, are advanced.
Matsumoto:Currently, I think that companies that deal with AI can be roughly divided into three categories.
The first is companies including tool vendors aiming to become platformers, the second is companies that focus on developing their own products, and the third is AI implementations like ours that start with advanced analysis ( It is a company that focuses on one-to-one.As Mr. Morimoto recognizes, I think that our company's axis can be said to be a unique positioning among many AI and DX related companies.
Morimoto:Personally, I don't think AI is universally usable by everyone. I believe that AI cannot be used without data scientists, so in that sense, it will be extremely important from now on to strengthen this field.
The "fairness" that FRONTEO is trying to achieve is, for example, fair judgment in lawsuits and criminal investigations, which should be equal under the law.In modern society, the amount of electronic data that can be used as evidence is increasing rapidly, but due to the enormous amount of data, correct analysis cannot be performed, correct conclusions cannot be drawn due to the inability to analyze, and incorrect evidence can lead to inappropriate judgments. Being let down is unacceptable.Similarly, medical care should be given equal opportunities for all people to be diagnosed.I think it's strange that we can only get a correct diagnosis in areas where there are experienced specialists.In order to eliminate that inequality, we are trying to solve it with AI, which is the "fairness" society that we are aiming for.In order to realize that society, our AI focuses on supporting the judgment of experts.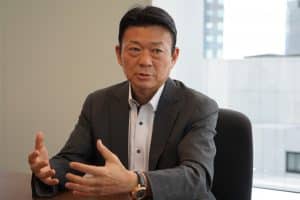 Listed companies stipulate that numbers are the company's "personality"
―― How was the scenery when you arrived?
Matsumoto:When I joined ALBERT, the company had less than 60 data scientists, and the financial statements showed a continuing trend of increasing losses.
First, immediately after my appointment, I thoroughly explained to the executives what kind of strategy I wanted to use to lead the company, so that they would be aware of the current situation.
During the first three months, I created many slides and gave presentations.In the beginning, I was sometimes confronted with frank opinions about what managers, who had no knowledge of technology, could understand.To be honest, I wasn't sure what would happen, but through repeated and thorough communication, I was able to reach a strategic agreement with the executives.From there, the reconstruction plan started, and we set sail.
Thanks to your support, we achieved profitability in about seven months in line with our strategy, and we are currently moving toward further growth.I just sketched out the starting point and strategy, and I believe that the current situation is the result of the collective strength of our executives and employees.
Morimoto:I think that it was not necessarily smooth sailing after sailing through a difficult period.What happened to her and how did she get over it?
Matsumoto:It is a rule of a listed company, but as long as we are announcing guidance (performance forecasts), the market and achievement of commitments are extremely important.It took a year or two to instill its importance.
Since we are entrusted with management by our shareholders, the numbers we put on the market are, in a sense, our character.At the moment when this figure is "failed to achieve", shareholders and the market will become skeptical of the company's personality.First of all, it was really difficult to get employees to understand the importance of this number, and it is still an issue, so as not to create skepticism.
Morimoto:This is a difficult task.We are also keenly aware of this and have a sense of crisis.How did you deal with times when it was difficult to actually achieve the numbers?
Matsumoto:Gradually, I was able to develop an awareness of numbers and character development as a company, so I didn't feel rushed in particular. .We worked together to decide which predictions had collapsed, whether it could be recovered, and when it would be possible.Now, each division is able to run on its own, and I feel that we have grown as a company.
Don't say "later" as soon as bad news (bad news)
―― Please tell us if there is anything that you keep in mind as a manager.
Matsumoto:"Achieve the planned plan both qualitatively and quantitatively."There is only this.Rather than trying to keep it in mind, it's something that's always inside you.Information is the most important factor in achieving this.Therefore, we are very careful about obtaining information from executives and employees.
The president's office is an environment where executives can enter at any time without making an appointment, and I'm aware that bad news should be posted as soon as possible. I think most of them can be avoided.
Also, when listening, I try not to say, "Let's do it later."No matter how busy I am, at that moment, I always try to listen.If you tell the person who brought you the bad news, "Let's do it later," it's hard for them to say that too.
Morimoto:Does that mean you should be prepared to accept bad news at any time?
Matsumoto:I agree.I think business owners often hear bad news.I don't think it's that difficult to make decisions on an extended line, but making decisions in the midst of sudden and negative situations is one of the most important roles of a leader.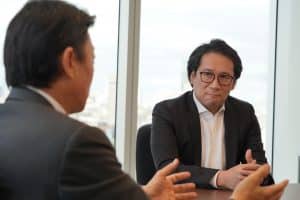 Morimoto:FRONTEO has been in business for 19 years and is about to celebrate its 20th anniversary next year.Starting from legal tech, we have expanded our business and sales area.However, some of the foundations of the organization have been unable to keep up with this rapid expansion.It became necessary to solidify the management system in order to maintain the listing.
The technology has existed since the beginning, and the people who use it have grown up, but there is a lack of basic sales marketing, such as how to increase sales in order to achieve the plan.Right now, we are starting from scratch and creating rules and processes to solidify the underlying strength of the team.I'm gradually expanding the delegation of authority, but I realized that it's no good to force people to do things I'm not doing myself. I'm thinking of doing it until the introduction and then leaving it to you.
Matsumoto:It has been our longstanding theme to instill a sense of management in executives.While the goal of operational excellence and elimination of personalization is exactly what the textbook says, it's difficult when there is only one person in the organization who leads it.I believe that how to make the executives around me "managers" is an important issue.
As one of the countermeasures, for example, even in private communication with executives, I set a light theme and have a dialogue about it.How do you see your company's balance sheet and cash flow?Then, the other person will also ask frank questions, and you will be able to naturally have a conversation from a management perspective.
Furthermore, in order to develop a sense of management, it is important to have them acquire management knowledge first, and finally, the "heart = thought" part is also important.However, this is difficult.Still, if a lot of such employees grow up, it will be a manager's blessing.
―― When did you develop your knowledge as a manager?
Matsumoto:I wanted to learn what company management is, so I worked for several years at a business company and a consulting company.In learning management, I somehow thought that finance would come first, so I approached it from that field, first acquired knowledge of financial statement analysis, various finance theories, organizational theory, strategy theory, etc., and then acquired corporate acquisitions (acquisition side). I learned "management" through
I feel keenly there.That knowledge alone cannot change anything.
For example, in a certain corporate acquisition, after taking control of the company, when I explained it to venture capitalists and other shareholders, I was yelled at, and there were even violent arguments.At the time, I didn't even understand why they were so angry.It made me understand from the bottom of my heart that this is not a world where logic alone is enough.
Through such experiences, I learned about the relationship between investors and issuers, how the top management, who has been managed by the logic of capital, is viewed by employees, what is accountability to shareholders, and what must be done as a leader. Around the age of 30, I experienced being overwhelmed every day.This was a great experience for me.
Don't be a company that makes flying refrigerators
―― What are you focusing on in order to implement AI in society?
Matsumoto:Rather than increasing the number of business partners, we are promoting a strategy of deepening relationships with leading companies in each industry who can sit down and accompany the social implementation of AI over the medium to long term.These are the leading companies in key industries, including our capital and business partner Toyota Motor Corporation.
One of my values ​​is that no matter how excellent the technology or solution is, it is meaningless if it is not used.
I used to say that I would never become a company that makes flying refrigerators.Even if it were to become a reality, while it would be a hot topic for its amazing technological capabilities, it would never become a "one in every household."Rather than pursuing that, we focus on providing solutions to the issues, including advanced technology, that priority industries face..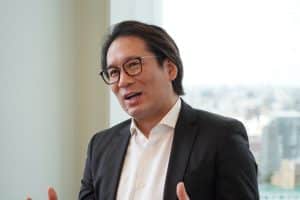 Morimoto:Implementation is important.Flying refrigerators are certainly amazing, but I also think that they are meaningless if they are not used.
There are two things I focus on when implementing it. One is that the AI ​​itself is "usable AI".In order to be an AI that can actually be used, I don't want it to be restricted to a large amount of data or a supercomputer.We believe that we need an AI engine that solves this problem.
The other is that people who use AI, such as automobile companies and pharmaceutical companies, the ace of the company is an expert in that field.There are no experts who use AI there.Conversely, we have AI experts, but almost none in product development or material research.So, in the end, we will separate them, we will be responsible for the AI ​​expert part, we will provide the service, and we will focus on "using" each other, which I think is very important.
Matsumoto:I think so, too.
Morimoto:FRONTEO also provides an AI engine.For example, the target expert does not want a global simulation.It is more important that they tell me if my judgment is correct, give me hints, and make me aware of things I didn't notice.That's why we focus on supporting that part.devil
In addition, what we are envisioning as a future direction is the development of companies that are working on AI not only providing AI, but becoming, for example, a drug discovery company that uses AI.We want to become a company that discovers the seeds of medicine.I believe that this will become the ideal form of AI that will be implemented in society in the future.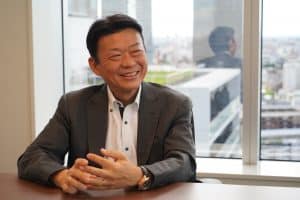 Developing data scientists is necessary for international competitiveness
―― Please tell us about your thoughts on human resource development.
Matsumoto:Four or five years ago when I joined the company, we were conducting general courses for people outside the company, but we temporarily stopped offering courses outside the company.A training curriculum that allows you to improve your skills internally, such as new graduates, internships, and mid-career recruitment, by continuing to brush up internally as a "secret sauce" rather than letting out the excellent content, which is an important asset of our company. decided to repair.After that, two years ago, we started providing external training curriculum only to our business partners.In addition, due to the increase in inquiries due to the trend of DX in the market as a whole, we have now resumed providing it to non-partners.
Morimoto:So your company supports this as a business.
Matsumoto:yes.There is also the training of our own data scientists, but the shortage of data scientists in Japan is a social issue, and if we do not increase the number to tens of thousands, we will probably lose our international competitiveness in a few years. I'm here.As a first step toward solving this problem, we have decided to provide the training curriculum not only to our partners but also to the general public.
We have received inquiries from leading companies in certain fields with which we have not previously done business, and we are increasingly providing training curriculums.We will continue to pay attention to industries and companies that are highly interested in data scientist training in order to eliminate the shortage of data scientist human resources and support the promotion of corporate DX in addition to key industries.
Morimoto:I think that mathematics specialists would not have been able to play an active role in Japan's current industrial world.Information and engineering professionals are currently in high demand.On the other hand, it is difficult to become a data scientist without knowledge of mathematics.However, many people who call themselves Data Scientists today are not.
Matsumoto:Even if you just say "data scientist" in one word, there are considerable differences in skill sets and levels, so a company like ours should properly draw the line and support the development of human resources with skills above a certain level. I think we need to go.This is an urgent and important initiative to ensure Japan's competitiveness.
Morimoto:It is also important for the government to take measures such as having the faculties and departments of universities properly maintained.
Matsumoto:In the first place, the reason why the number of data scientists in Japan is so small is that the timing of establishment of faculties and departments specializing in data science was too late.At the earliest, Shiga University opened Japan's first data science department five years ago.Now they are being installed gradually, but the delay in starting is affecting the industry.The biggest issue is that the absolute number of data scientists is extremely small in Japan.In terms of the number of papers published, Japan is still far behind China, the United States, and Europe.
Morimoto:From the perspective of AI development, the tendency to think that larger size is better is also a problem.Larger size is not bad per se, but it has different uses.
In order to use AI in the truest sense, it is essential that we focus more on creating our own fundamental technology for analyzing current phenomena in society.
Mathematicians at FRONTEO believe that phenomena in the world have simple laws, and they create algorithms based on them.What is very interesting is that it is quite consistent with social phenomena.For example, we are currently working on supply chain analysis.If we put the network on a vector and let the AI ​​learn about the construction of a part of the supply chain and the supply chain in the world, and generate the entire supply chain, it will be similar to the supply chain that humans have actually built over many years. You can do something.
We also believe that algorithms should be beautiful.How to make it simple, not a complicated, splicing algorithm.We feel valued here.Supercomputers such as Fugaku are of course excellent, but more attention should be paid to capturing the essence and creating highly accurate algorithms.I believe that these cutting-edge technologies will be the key to bringing Japanese AI back to the world.
―― Lastly, please tell us about your future prospects.
Matsumoto:I'm often asked how many more years I'll be president, but I haven't decided.As long as I feel my leadership is correlated with management, organization, performance, markets, and society, I will continue to fight.
The company's outlook is to steadily advance its current strategy. Although we have announced our M&A strategy, we have no intention of acquiring companies unrelated to our business.Our vision is to expand the initially set CATALYST strategy and increase the number of cases where ALBERT supports social implementation as a catalyst.
Morimoto:It will become a big new industry. There are many companies that dispatch IT system developers, but your company is truly a catalyst that creates new chemical reactions between industries through data science and creates the world.
In our company's case, we want to be the best in the world in linguistic AI, AI based on our own beautiful mathematical models.I don't think there are any winners in this industry yet in Japan, so we want to be one of them.To that end, we will solidify our footing and grow as a company.