2018.04.16
Information
--To the press -
Reception / customer service support robot "Kibiro for Biz + Marketing" About stores used by Nomura Securities from December 2017
FRONTEO Inc.
Masahiro Morimoto, President and CEO
2-12-23 Konan, Minato-ku, Tokyo
(Code number: 2158 TSE Mothers)
(NASDAQ ticker symbol: FRONTEO)
At the end of last year, the reception / customer service support robot "Kibiro for Biz + Marketing", which Nomura Securities decided to introduce, was installed at the Keio Shinjuku branch, Toranomon branch, and Ichikawa branch, and Kibiro started to guide customers. I am.
[Usage image]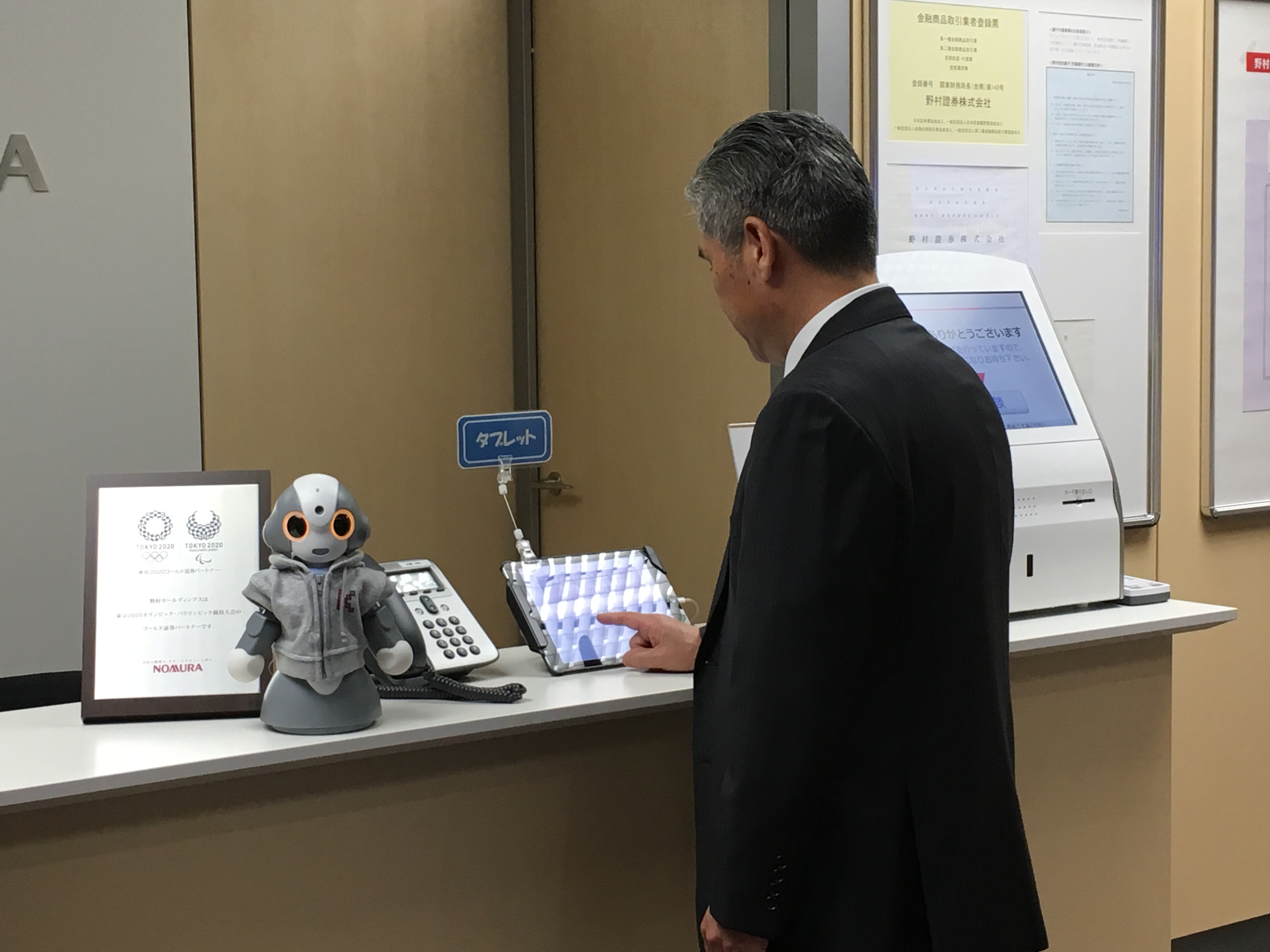 Since December 12, last year, we have asked the store managers of the above three branches to set the original contents and contents of the branch, and we are starting to use it sequentially from the branch that is ready.
Combines the functions of "Kibiro for Biz + Marketing" such as welcoming you to say "Welcome" when the camera detects the customer, notification of the extension number according to the purpose of the customer's visit, and information on holding information such as investment seminars. It replaces some of the counter operations that were previously performed by staff.
When you visit each branch, please enjoy the customer service provided by Kibiro.
<Branch information introducing "Kibiro for Biz + Marketing">
Nomura Securities Keio Shinjuku Branch (Shinjuku-ku, Tokyo)
http://www.nomura.co.jp/branch/branch/keioshinjuku.html
Nomura Securities Toranomon Branch (Minato-ku, Tokyo)
http://www.nomura.co.jp/branch/branch/toranomon.html
Nomura Securities Ichikawa Branch (Ichikawa City, Chiba Prefecture)
http://www.nomura.co.jp/branch/branch/ichikawa.html
For further information, please contact
FRONTEO Inc. Corporate Communication Department
pr_contact@fronteo.com