[Overseas Business Trip Report] We will deliver the state of long-term business trips of young employees to New York.
Corporate Communication Department
International litigation support, fraud investigation, etc.
Legal business
FRONTEO is developing.In particular
e-discovery support
Employees engaged in this environment are in an environment where they can play an active role globally, such as communicating with members of overseas bases and opportunities for business trips overseas.This time, we asked a third-year new graduate employee who is currently on a long-term business trip to New York to report on the local work and the state of the city!
Challenge in New York
I have been working in the New York office since November last year to support international proceedings.When I was consulted for a business trip, it was a long period of three months, and I was very anxious because it was my first business trip to the United States, but I thought it was a challenge to something new and took the plunge. I decided to.Now that I'm used to living in New York, I've got a good pace of work.In Japan, I was involved in a project as an engineer, but in New York, I am in charge of supporting review work, mainly supporting local PMs (project managers: managers of the entire project), and also working on work that I have no experience with. is.It's a lot of new things and it's hard every day, but I'm able to get involved in most of the eDiscovery flow, and I'm feeling a sense of fulfillment like never before.
Life in new york
This is the second overseas business trip following a one-week business trip to Thailand, which is the second year since joining the company.It's been a while since I've been abroad for a long time, so not only my daily work but also my daily life in New York feels very exciting.On my days off, I enjoy going out to places unique to New York.However, winter in New York is more severe than expected, and the temperature is just below freezing, so it's really cold. I was invited by a member of the New York office to start bouldering.There seems to be a bouldering gym near the Shinagawa office in Tokyo, so I'm thinking of becoming a member when I return to Japan.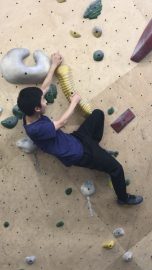 I've gotten used to my daily work and life, but I'm having a hard time communicating in English.As a matter of course, all communication with clients will be in English, so improving English conversation skills will be a major issue in the future.However, I feel that I have fully utilized the knowledge and experience I have cultivated since joining the company here in New York, and I have an unprecedented sense of accomplishment.I will be returning to Japan soon, but I will do my best in Japan again by taking advantage of this experience!