I attended the 15th Information Security Culture Award Ceremony and Award Commemorative Lecture
Corporate Communication Department
On Wednesday, March 3th, at the Security Solution Stage of SECURITY SHOW 6 held at Tokyo Big Sight, the award ceremony and award commemorative lecture of the 2019th "Information Security Culture Award" were held.One of the award winners includes Masahiro Morimoto, President and CEO of our company, who was invited to the award ceremony and the award commemorative lecture.
Information Security Graduate University Press Release
This time, Mr. Tetsuya Ishii, Vice President of Chiba University, Mr. Takashi Ichihara, ICT Promotion Department, General Affairs Bureau, Kanagawa Prefecture, Mr. Chisato Konno, Expert Committee Member, Information-technology Promotion Agency, Japan, Mr. Asuka Nakajima, Researcher, NTT Secure Platform Research Institute, Five of our company's president, Morimoto, received the award.The reason for the award is that since the company was established in 5, it has continued to support international litigation as the only company listed in Japan and the United States in the litigation support business field, and has developed and put into practical use unique Predictive Coding * technology based on AI technology. Succeeded and developed the world's first Asian language analysis discovery support tool independently.It is mentioned that it has made a great contribution to the training of data scientists and the spread and promotion of digital forensics technology, which is one of the most important fields of information security. * Automatic sorting function of sentences judged to be important as evidence by artificial intelligence "KIBIT" originally developed by FRONTEO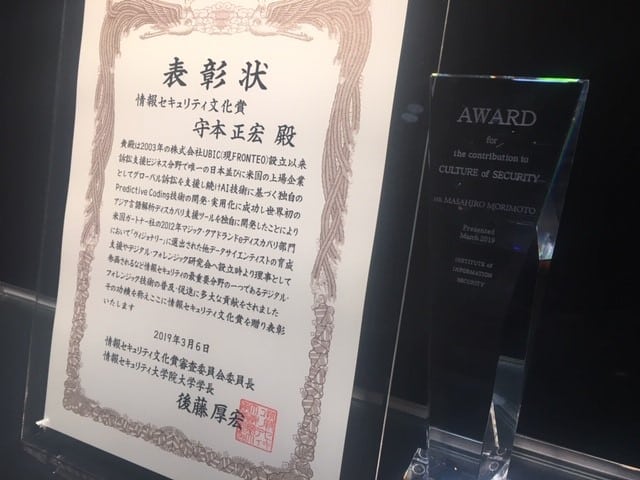 Encouraged by this award, FRONTEO will continue to use its own AI based on natural language processing to support companies that are struggling to deal with proceedings, spread digital forensics technology, and improve business efficiency. I would like to go.
The Information Security Culture Award was established in February 2005 by the University for the purpose of contributing to the advancement of information security by commending individuals who have made significant contributions to the development of the information security field in Japan. By continuing this project, we will arouse interest in information security culture and foster talented information security human resources who can play a central role in various organizations such as local governments and companies that support Japan's life, economy, and industrial infrastructure. We are planning to connect them. "(