FRONTEO's "KIBIT" series has been selected as the number one share in the AI ​​language analysis market!
Corporate Communication Department
This time we would like to send you a nice news. FRONTEO's "KIBIT series" (a group of business solutions equipped with the AI ​​engine "KIBIT" originally developed by FRONTEO) is a market research report compiled by independent IT research and consulting company ITR (ITR). In the domestic language analysis market * (based on sales amount by vendor) of AI, it accounted for 26.8% of the total and won the first share (FY1 and FY2016). (Source: ITR "
ITR Market View: AI Market 2018
Announced on December 2018, 12) According to an ITR survey, the total sales amount of the five major AI markets (image recognition, voice recognition, speech synthesis, language analysis, search / search) in FY5 was 2017 billion yen, up 116% from the previous year, a rapid increase. is showing.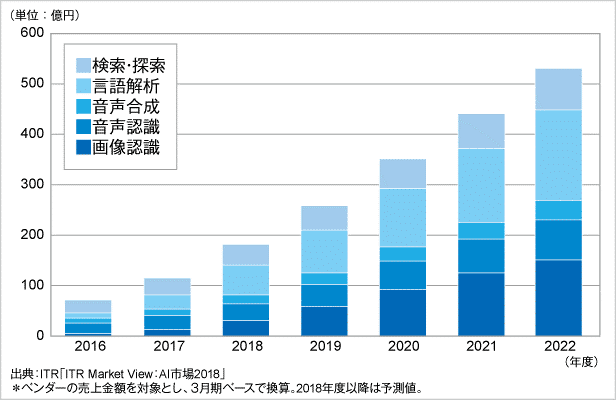 Currently, language analysis is being introduced mainly for use in call centers, but in the future, we will check the contents of contracts, check whether appropriate explanations are given when operating financial products, and catch signs of employee turnover. It is expected that the introduction will spread to a wide range of fields, such as leading to early response. * Language analysis market Language analysis is a product that uses a computer to analyze words (natural language) that are used in daily life.It includes features such as parsing, semantic analysis, context analysis, and natural language classification. (Source: ITR "ITR Market View: AI Market 2018")