[VTOP] What is the first half project that new graduates are working on?
FRONTEO has a new graduate training project called Vertical Take Off Project (commonly known as VTOP) under the direct control of the president for one year after joining the company. (Click here for details →
https://www.fronteo.com/blog/news/20180219113050.html
) VTOP's one-year activities are: ・ May-August
XNUMXst half
・ September-December
Second half
・ September-December
Takeover period
It is divided into three, and new graduates work on different projects in each period.This time, the 3 new graduates worked on "from May to August last year.
First half project
I would like to introduce you to!
Purpose of the first half project
In the first half of each year, "
Compilation of company history'
to hold.Why is it "corporate history" every year? … That's an opportunity for new graduates to grow significantly.
In the process of compiling the company history, new graduates interview the president and officers.By learning through interviews how management has overcome turning points and crises, they can learn the thinking and judgment axes of management, and when they actually face difficulties in practice, I want you to make use of the knowledge gained from past cases.
The compilation of corporate history has such a purpose.
FRONTEO is now entering a period of expansion and growth. With the leap of FRONTEO, we want to give new graduates a chance to grow significantly, and VTOP is a project with such a desire.
The theme for 2017 is KIBIT
The theme for 2017 is FRONTEO's original artificial intelligence "KIBIT".KIBIT, which was developed in the legal tech field, is now expanding to other fields such as business intelligence and digital communication, and the field of introduction is expanding significantly.This time, the purpose of the production was to learn the secrets and attitudes when challenging new fields by summarizing the background of the birth of KIBIT, the thoughts of President Morimoto, and various ways of using it.

From production start to completion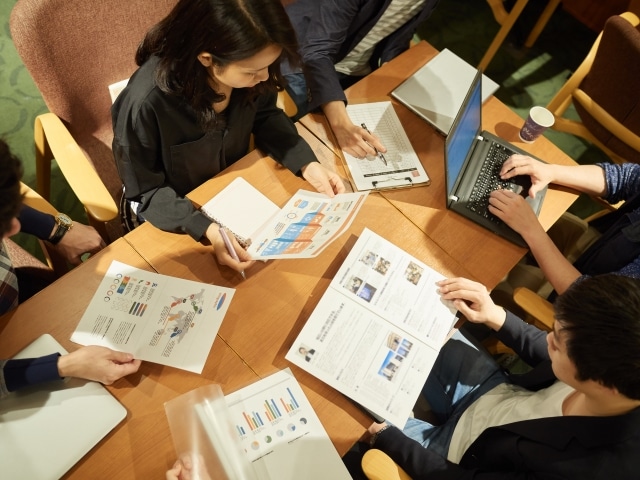 Once the theme and purpose of the company history have been decided, we will move on to drafting, in-house interviews with executives including President Morimoto, and each department.
A total of 15 people who are developing KIBIT and introducing it in the field
In this interview, it was a very valuable experience to know not only the history of KIBIT, but also the attitude of continuing to challenge new things, how to confront difficulties, and how to overcome them with ingenuity. It was.I think I was able to learn the feelings and ways of thinking of the management and senior employees at that time, which cannot be found in in-house materials or media articles.And when everyone's interview is over, it's time to write. How can the passionate feelings and valuable experiences of various people involved in KIBIT be conveyed to the readers ... While checking with all new graduates, rewriting over and over again, from the start of production
About 4 months
Finally, the company history of KIBIT, which covers about 60 pages, is called "Hello KIBIT!". "Hello KIBIT!" Consists of "Development", which consists of the background and development episodes of KIBIT's birth, and "Utilization", which summarizes the utilization of KIBIT in each field.In addition to that, we have also set up a "Introduction to KIBIT that even new graduates can understand!" And a "Column" that summarizes interviews with the president and officers for employees who have just joined FRONTEO to make it easier to read. In the questionnaire conducted to all FRONTEO employees, many respondents answered, "It was a manuscript that even people who are not familiar with technology can understand KIBIT well!"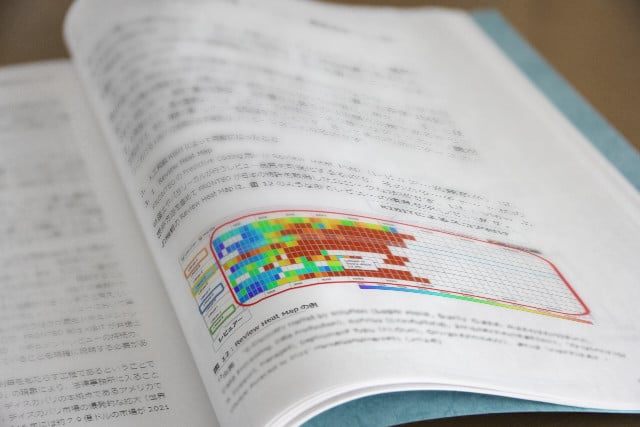 What I learned from the production of Hello KIBIT! -Voice of a new graduate in 2017-
The first half project is the first project that only new graduates will work on.It was my first experience to identify tasks, set schedules, and manage progress, and I realized how difficult it is to proceed with projects in parallel while receiving training.I remember feeling impatient at the beginning.However, thanks to the careful guidance of my seniors in the second year, I was able to proceed with tasks more efficiently, and by the end of the project, everyone was able to acquire schedule management skills.Also, since it was a project in which all new employees worked together, it was great that we could share the sense of accomplishment that was completed, and we also learned the joy of working as a team.Originally, I wanted to be involved in the development of software using artificial intelligence, so I joined FRONTEO after an internship at a research institute.Now in my second year as a member of society, at the Business Solutions Headquarters,
While involved in data analysis and tool development on a daily basis
, I realize that the attitudes and ways of thinking of senior employees who learned in this first half project and their task management ability are very important in advancing their work.And now I am in a position to guide new graduates in 2018 working on the first half project.I would like to convey the experience I have learned to new graduates and support them so that they can grow!

---
FRONTEO is currently looking for colleagues to work with!Click here for a list of job categories:
https://www.fronteo.com/recruit/
■ VTOP Series # 1: About FRONTEO's new graduate training project "VTOP":
https://www.fronteo.com/blog/news/20180219113050.html
■ VTOP Series # 2: Training system for new graduates:
https://www.fronteo.com/blog/news/20180307100052.html
■ VTOP Series # 3: About the "mentor system" that promotes communication opportunities outside of work:
https://www.fronteo.com/blog/news/20180328093038.html
■ VTOP Series # 4: About "AI Solution Training" for new graduates:
https://www.fronteo.com/blog/news/20180416090026.html
■ VTOP Series # 5: About "Legal Tech Training" for new graduates:
https://www.fronteo.com/blog/news/20180607103011.html