At the Globis "G1 Summit", FRONTEO representative Masahiro Morimoto took the stage at the artificial intelligence subcommittee and talked about the forefront of business utilization.
Corporate Communication Department
Morimoto, President and CEO of FRONETO Co., Ltd., participated in the "G3 Summit" held at Mangokutsu Ryokan in Okinawa for three days from Saturday, March 20, and the subcommittee "Major changes created by artificial intelligence". I took the stage as a panelist of "What is happening on the front line?" The G3 Summit is the "Japanese Davos Conference" that has been run by Globis, which develops business graduate schools and venture capital businesses, since 1. It is the front line of various fields such as politics, economy, culture, technology, and environment. It is a place where leaders who are active in the field gather, learn, and exchange opinions. Seven plenary sessions and 1 subcommittees were held, and "artificial intelligence" was taken up as a hot topic following last year.
■ Subcommittee "Major changes created by artificial intelligence-what is happening at the forefront-"
<Panelists> Hiroaki Kitano President and Director of Sony Computer Science Laboratory Co., Ltd. Yutaka Matsuo Specially Appointed Associate Professor, Graduate School of Engineering, The University of Tokyo Masahiro Morimoto President and CEO of FRONTEO Inc. <Moderator> Masayuki Makino Works Co., Ltd. Applications Representative Director and Chief Executive Officer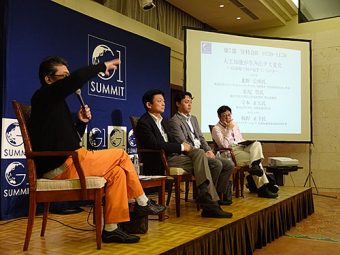 This subcommittee does not discuss the state of society 30 years from now, but how far the artificial intelligence that is beginning to be used in industry at the moment has evolved, and what can be realized in the next 3 years or so. We focused on areas where it is expected to be used, as well as what issues have become apparent when introducing it to business and production sites.Morimoto has a huge amount of KIBIT that has learned the tacit knowledge and senses of people through the track record of utilizing products and solutions equipped with our artificial intelligence "KIBIT" in the fields of litigation support and sales support. We analyzed the amount of textual information and introduced the role of supporting human judgment.He also pointed out that the learning efficiency of artificial intelligence is one of the important viewpoints for the early introduction of artificial intelligence and the accumulation of achievements, and the importance of increasing the presence of Japan's unique technology.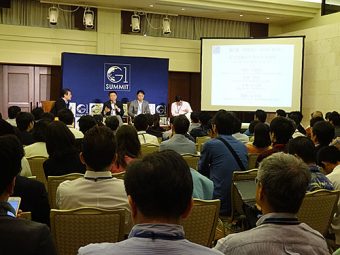 At a later date, a video of the subcommittee will be released on the Globis website "GLOBIS Findings". G1 Summit
https://g1summit.com/g1summit/
GLOBIS findings (video will be released at a later date)
http://globis.jp/category/167