We will exhibit at the 2015 Patent / Information Fair & Conference
Business Solutions Headquarters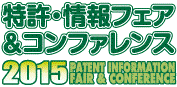 FRONTEO will be exhibiting at "2015 Patent and Information Fair & Conference", Japan's largest specialized trade fair for patent information and intellectual property, to be held in Tokyo from Wednesday, November 11, 4 to Friday, November 11, 6. .. We would like to introduce "KIBIT Patent Explorer", an intellectual property strategy support system that uses artificial intelligence, which was launched on October 2015th.A mini seminar with demonstrations will be held in the booth.Visitors will be given free coffee and can experience the high accuracy of analysis of patent-related documents by artificial intelligence while relaxing.In addition, at the corporate presentation venue, Toyota Technical Development Corp., a co-developer, will also be on stage on November 10th (Friday) under the title of "Improvement of efficiency and latest cases of patent search and analysis work by artificial intelligence". It's a schedule. We will introduce in detail how FRONTEO's artificial intelligence can improve work efficiency with high accuracy, including the latest research cases.We are also preparing gifts, so please come to the UBIC booth with your friends!
■ Exhibited products
Intellectual property strategy support system using artificial intelligence KIBIT Patent Explorer

■ Outline
[Name] 2015 Patent / Information Fair & Conference [Date] November 2015th (Wednesday) -November 11th (Friday), 4 [Venue] Science Museum (Kitanomaru, Tokyo) Official Website: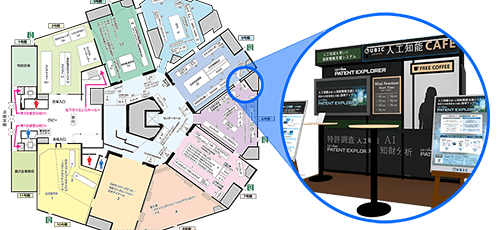 ■ Corporate presentation [Sunday] November 2015, 11 (Friday) 6: 16-15: 17 [Meeting place] Science and Technology Center 00th floor / Meeting room 6 [Capacity] 90 people (first-come-first-served basis) [Title] By artificial intelligence Efficiency of patent search / analysis work and latest cases [Speaker] Hideki Takeda (Executive Officer, CTO of FRONTEO Co., Ltd./Director, Institute of Behavioral Information Science) (Toyota Technical Development Co., Ltd. will also be on stage) Official Website:
http://www.pifc.jp/presentation.html#pifc03
We are offering a privilege to use the intellectual property strategy system "KIBIT Patent Explorer" using artificial intelligence for one month free of charge for one company by lottery from those who answered the audience questionnaire. !!
■ About KIBIT Patent Explorer
"KIBIT Patent Explorer" is a commercialization of the joint development that FRONTEO and Toyota Technical Development Corp. have been promoting.Artificial intelligence that learns the contents of the document you want to find (invention proposal, patent material you want to invalidate, etc.) as "teacher data" analyzes the target file, scores it, and sorts the document.As a result of sorting, documents that are most relevant to teacher data are sorted in order of score, and the start of the search is prioritized, which greatly improves the review efficiency of patent-related documents.For details, see the "Patent Explorer" website.Official website:
http://www.kibit-platform.com/products/patent-explorer/