2023.03.16
Press release
--To the press -
Announcement of "KIBIT Eye", an ordinary audit system equipped with a new AI engine
Reproducing human's excellent intuitive judgment ability with AI, improving the analysis accuracy of communication tool audits such as e-mail
FRONTEO Inc.
Masahiro Morimoto, President and CEO
2-12-23 Konan, Minato-ku, Tokyo
(Code number: 2158 TSE Growth)
 FRONTEO Co., Ltd. (Headquarters: Minato-ku, Tokyo, President: Masahiro Morimoto, hereinafter: FRONTEO) will launch a new ordinary audit support system equipped with the AI ​​engine "KIBIT" from April 2023. We are pleased to announce that we will start offering the product "KIBIT Eye".In addition, KIBIT installed in this product implements an algorithm developed with new ideas.

 In recent years, with the expansion of remote work and the spread of various communication tools against the backdrop of the corona crisis, companies are exposed to reputation risks such as loss of trust due to information leaks by employees and inappropriate sales activities.From the perspective of sustainable corporate management, companies are required to strengthen compliance through a robust governance system to deal with these risks.On the other hand, in normal auditing operations, much time and effort is spent analyzing data that is becoming increasingly complex and enormous.Efforts such as appropriate audits, prompt responses, preventive measures, and information disclosure have become pressing issues for companies.
 In 2014, FRONTEO started providing an AI-based email auditing system, and has been supporting companies in early detection of fraud risks and detection of signs.In addition, we have continued to expand the functionality of the system in line with the changing times, such as by supporting diversifying communication tools such as chat.
 The newly launched KIBIT Eye is a system equipped with a new algorithm (patent pending) developed by FRONTEO's research team, utilizing the technology and knowledge related to the normal audit AI system cultivated so far.This algorithm was born based on the design concept of reproducing human's excellent intuitive judgment ability with AI.For example, in an image composed of various colors, people can perceive the overall color tone at a glance (see Fig. 1).By replacing these colors with the words (morphemes*) that make up the document and capturing the nuances of the entire document like colors, the accuracy of text feature analysis is improved.In-house verification data showed that KIBIT Eye's auditable data extraction rate improved from 82.5% to 99.5% compared to the conventional system (see Figure 2).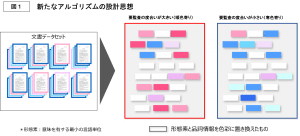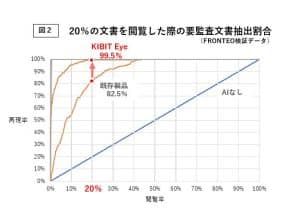 Through the development and provision of innovative AI-based solutions with strengths in natural language processing, FRONTEO supports the efficiency and sophistication of regular audit operations at client companies, contributing to the prevention and early detection of fraud and scandals. We will continue to.


KIBIT Eye special site:https://kibit.fronteo.com/products/kibit-eye-lp/
Product introduction site:https://kibit.fronteo.com/products/

■ About FRONTEO URL:https://www.fronteo.com/
FRONTEO uses in-house developed AI engines "KIBIT", "Concept Encoder" and "Looca Cross" that specialize in natural language processing. We are a data analysis company that extracts meaningful and important information from vast amounts of text data and complex networks to support corporate businesses. Since its founding in August 2003, it has been operating globally in Japan, the United States, South Korea, and Taiwan, with a focus on legal tech businesses such as "e-discovery (electronic discovery)" and "digital forensic investigations" that support international corporate litigation. has been developed.Based on the AI ​​technology cultivated in this business, since 8, we have expanded our business fields to the life science field, business intelligence field, and economic security field. We contribute to solving the problems of various companies, such as drug discovery support, dementia diagnosis support, and financial/personnel/sales support. June 2014, 2007 Listed on Tokyo Stock Exchange Mothers (currently Tokyo Stock Exchange Growth). In January 6, we acquired the first-class medical device manufacturing and sales license (permit number: 26B2021X1), and in September of the same year, we submitted a controlled medical device sales business (report number: 13 Minato Misei device No. 1).Capital 10350 thousand yen (as of March 9, 3).
* FRONTEO, KIBIT, conceptencoder, and Looca Cross are registered trademarks of FRONTEO in Japan.
<Contact for inquiries from the press>
Public Relations Officer, FRONTEO Inc.  
pr_contact@fronteo.com
<Inquiries regarding the business intelligence business>
FRONTEO, Inc. Business Intelligence Business Headquarters
https://kibit.fronteo.com/contact/