2022.11.30
Press release
--To the press -
Developed a new AI algorithm to be installed in the AI ​​review tool "KIBIT Automator"
FRONTEO Inc.
Masahiro Morimoto, President and CEO
2-12-23 Konan, Minato-ku, Tokyo
(Code number: 2158 TSE Growth)
FRONTEO Co., Ltd. (Headquarters: Minato-ku, Tokyo, President: Masahiro Morimoto, hereinafter FRONTEO) is a new core technology AI that will be installed in the AI ​​review tool "KIBIT Automator". I am happy to inform you that I have developed an algorithm.
FRONTEO's proprietary KIBIT Automator supports the judgment of experts and business experts with extremely little training data.In e-discovery in international litigation, from the huge amount of document data that can reach several terabytes per evidence holder (custodian), within a limited period of time and with the same accuracy as the judgment of the lawyer involved in the investigation, Documents related to evidence must be found. KIBIT Automator is used domestically and internationally as a legal tech that contributes to the efficiency of this evidence discovery.
The AI ​​algorithms installed in KIBIT Automator include "Landscaping" developed in 2012 and "Illumination Forest" developed in 2019. Landscaping has the feature of being able to calculate the degree of relevance of the keywords appearing in the document to the evidence as a "weight", and is excellent in explaining the analysis results.Illumination Forest also has the ability to accurately predict the number of evidence-related documents prior to human review, as well as the high accuracy of evidence-related document discovery.Since the development of these AI algorithms, we have continued to research and improve them.This time, we have successfully developed a new algorithm that combines two existing performances.
FRONTEO's research team found that when people review documents, their cognitive ability to quickly and accurately determine whether or not they are relevant to evidence unconsciously recognizes only what they want to detect. Inspired by the similarity to , and so on, I developed a hypothesis model that ``people perceive words (morphemes*) in documents as primary colors, and the number and combination of word appearances as colors.'' Inspired and designed a new AI algorithm.
For example, one can look at the two objects shown in the diagram and intuitively determine whether each component is warm (assuming the evidence is relevant) or cold (assuming the evidence is irrelevant). .Based on this hypothetical model, the AI ​​algorithm of this time incorporates various knowledge and know-how accumulated through the development and improvement of Landscaping and Illumination Forest. was newly developed.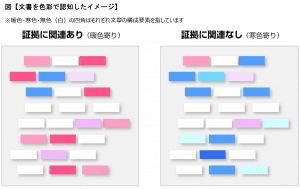 This AI algorithm is a highly versatile technology that can be installed in various FRONTEO products, including KIBIT Automator, and is expected to contribute to further improving the functionality of our existing products.
FRONTEO will continue to promote the sophistication of its unique AI solutions, which have strengths in natural language processing, and will strive to develop and improve algorithms as a digital forensics/discovery vendor that supports experts.
*Morpheme: the smallest meaningful linguistic unit
■ About KIBIT Automator URL: https://legal.fronteo.com/products/kibit-automator/
"KIBIT Automator" improves the efficiency of document review work in electronic discovery (e-discovery), reduces the burden on workers, and reduces costs, among other discoveries required in the trial proceedings of US civil proceedings. An AI tool developed for the purpose, released in March 2019.We apply the research method used in discovery and utilize AI to examine and analyze large-capacity e-mails and electronic files that are evidence materials.In recent years, it is expected to respond to the short-term information disclosure required of companies.

■ About FRONTEO URL:https://www.fronteo.com/
FRONTEO is a data analysis company that uses the in-house developed AI engines KIBIT and Concept Encoder, Looca Cross specialized in natural language processing to extract meaningful and significant information from a large amount of textual data and support companies' business. Since its inception in August 2003, we have been working globally with Japan, the United States, Korea, and Taiwan, mainly in the Legaltech business, such as e-discovery (electronic evidence disclosure) and digital forensic surveys, which support company international lawsuits. Based on AI technology developed in this project, we have expanded our business fields to life science, business intelligence, and economic security since 8, and have used AI to transform textual data into knowledge, thus contributing to the resolution of various companies' issues, including support for drug discovery, support for dementia diagnostics, and support for financial, human resources, and business. Listed on TSE Mothers (currently TSE Growth) on June 2014, 2007. In January 6, the company obtained a license to manufacture and sell Class I medical devices (license number: 26B2021X1), and in September of the same year, the company submitted a notification to sell controlled medical devices (notification number: 13MinatoMiSeikikiDai1). Capital: ¥10350 (as of March 9, 3).

* FRONTEO, KIBIT, KIBIT Automator, conceptencoder, and Looca Cross are registered trademarks of FRONTEO in Japan.