2022.11.24
Press release
--To the press -
Addition of a new function to visualize medical insights to the AI ​​system "WordATLAS" that supports the formulation of information strategies for pharmaceutical companies
Analyze medical papers and visualize physicians' concerns and prescribing trends
FRONTEO Inc.
Masahiro Morimoto, President and CEO
2-12-23 Konan, Minato-ku, Tokyo
(Code number: 2158 TSE Growth)
 FRONTEO Co., Ltd. (Headquarters: Minato-ku, Tokyo, President: Masahiro Morimoto, hereinafter referred to as FRONTEO) has recently announced that doctors are interested in the AI ​​system "WordATLAS" that analyzes medical papers and supports the formulation of information strategies for pharmaceutical companies. A new function "Medical Insight" has been added that visualizes the themes and trends in prescriptions and treatments.

 Word ATLASuses the natural language analysis AI engine "Concept Encoder (trademark: conceptencoder, reading: concept encoder)" to analyze medical papers and author information listed in PubMed*, and support the formulation of information strategies for pharmaceutical companies, etc. AI system.Visualize the network information of regions and facilities where research is actively conducted and co-authors for the disease or drug you want to investigate, and the main information senders (key opinion leaders), penetration and research status of your company's products and competing products. , it is possible to comprehensively, objectively and efficiently grasp the current state of the market.As a support tool for the selection of joint researchers and cooperative facilities in basic research, clinical research, and clinical trials, and the formulation of medical marketing strategies, including competitive analysis, efficiency and acceleration of drug research and development, market penetration, etc., and sharing of knowledge contribute to the promotion of
 The new function "Medical Insight" added this time visualizes and quantifies the characteristics and points of attention of the content described in the paper, and what the individual doctors and researchers who are the authors of the paper are interested in. It visualizes such insights.The analysis results are presented in a radar chart (figure) that allows an at-a-glance understanding of trends in points of interest for individual doctors and researchers, as well as in a tabular format that summarizes all subjects.By filtering these results for each analysis axis, it is possible to easily segment and target doctors and researchers based on the content of the article.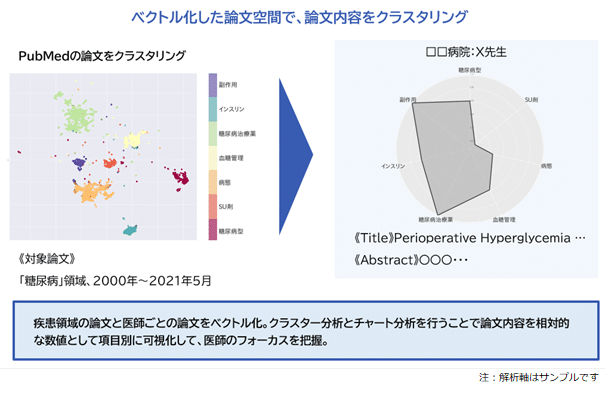 FRONTEO will support strategy formulation and research and development of pharmaceutical companies by providing solutions that utilize in-house developed AI, which has strengths in natural language processing.
 The impact of this matter alone on the business results for the current fiscal year is minor, but we will promptly notify you if there are any matters to be disclosed.
* Database of biomedical papers operated by the National Center for Biological Science Information of the U.S. National Library of Medicine

■ About Concept Encoder
URL:https://lifescience.fronteo.com/technology/conceptencoder/
"Concept Encoder" is a natural language analysis AI (artificial intelligence) developed by FRONTEO specially in the life science field.It was developed in 2018 with the aim of effectively analyzing and utilizing medical data containing a large amount of free-form text data based on evidence. Concept Encoder can be co-analyzed with data other than text, and we are conducting research on co-analysis with numerical data such as gene expression information, vitals, and various test values ​​accumulated in the life science field.Patent registration number: Patent No. 6346367

■ About FRONTEO URL:https://www.fronteo.com/
FRONTEO uses the in-house developed AI engines "KIBIT", "Concept Encoder (trademark: conceptencoder, reading: concept encoder)", and "Looca Cross", which are specialized in natural language processing. It is a data analysis company that supports the business of companies by extracting meaningful and important information from a huge amount of text data. Since its establishment in August 2003, it has been expanding globally to Japan, the United States, South Korea, and Taiwan, focusing on legal tech businesses such as "e-discovery (electronic discovery)" and "digital forensic investigation" that support corporate international litigation. Has been deployed.Based on the AI ​​technology cultivated in this business, we will expand the business field to the life science field, business intelligence field, and economic security from 8, and by using AI to "turn text data into knowledge", We contribute to solving various corporate issues such as drug discovery support, dementia diagnosis support, financial, personnel, and sales support. Listed on TSE Mothers (currently TSE Growth) on June 2014, 2007. Obtained a first-class medical device manufacturing and sales business license in January 6 (permit number: 26B2021X1), and notified the managed medical device sales business in September of the same year (notification number: 13 Minato Misei Equipment No. 1).The capital is 10350 thousand yen (as of March 9, 3).

* FRONTEO, KIBIT, conceptencoder, and Looca Cross are registered trademarks of FRONTEO in Japan.