2022.11.01
Press release
--To the press -
FRONTEO's Medical Paper Search AI System "Amanogawa" Introduced at Okayama University Hospital Pharmacy Department
FRONTEO Inc.
Masahiro Morimoto, President and CEO
2-12-23 Konan, Minato-ku, Tokyo
(Code number: 2158 TSE Growth)
 FRONTEO Co., Ltd. (Headquarters: Minato-ku, Tokyo, President: Masahiro Morimoto, hereinafter referred to as FRONTEO) is a medical paper search AI system "Amanogawa" Okayama University Hospital Pharmacy Department (Location: Okayama City, Okayama Prefecture, Professor / Department of Pharmacy) : Yoshito Zamami).
 Amanogawais a medical paper search AI system equipped with FRONTEO's unique AI engine "Concept Encoder (trademark: conceptencoder, reading: concept encoder)".When researchers enter words, sentences, hypotheses, etc. they want to look up, AI*Instantly detect related papers from the data of more than 2000 million papers published on . AI vector computing technology quantifies the meaning, relationships, and similarity of words and sentences, and analyzes search words and sentences based on their meanings and concepts, rather than matches as strings.This makes it possible to efficiently and exhaustively search for highly important information from a vast amount of information without bias due to the knowledge or perspective of the searcher.
Comment from Mr. Yoshito Zamami, Professor, Department of Pharmacy, Okayama University Hospital
"By using Amanogawa, we can greatly improve the efficiency of manuscript search and analysis work, which takes a lot of time for human work. increase."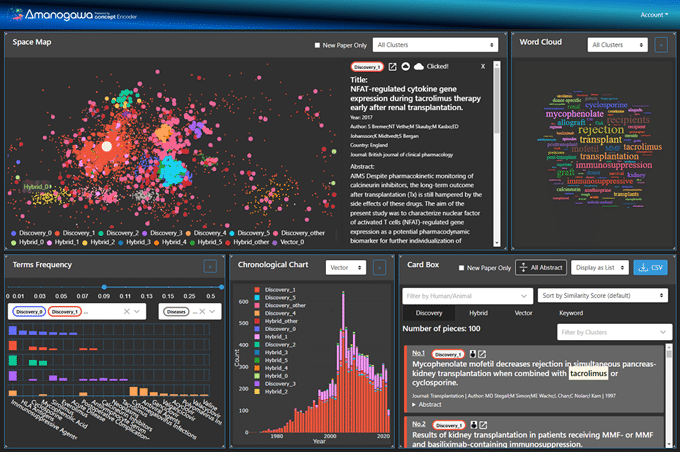 Amanogawa system screen example. Space Map dots indicate individual papers.by article content
Clusters, annual transitions, lists of highly relevant papers, etc. can be grasped at a glance.
 FRONTEO will work on research and development to improve the quality of medical care and QOL of patients and contribute to the development of medicine and pharmacology through the provision of AI systems and the promotion of medical DX (digital transformation).
 The impact of this matter alone on the business results for the current fiscal year is minor, but we will promptly notify you if there are any matters to be disclosed.
* PubMed: A database of biomedical papers created by the National Center for Biological Sciences in the National Library of Medicine.
■ About Concept Encoder URL:https://lifescience.fronteo.com/technology/conceptencoder/
"Concept Encoder" is a natural language analysis AI (artificial intelligence) developed by FRONTEO specializing in the life science field.It was developed in 2018 with the aim of effectively analyzing and utilizing medical data, including large amounts of free-form text data, based on evidence. "Concept Encoder" can also be co-analyzed with data other than text, and we are conducting research on co-analysis with numerical data such as gene expression information, vital signs, and various test values ​​that have been accumulated in the life science field.Patent registration number: Patent No. 6346367

■ About FRONTEO URL:https://www.fronteo.com/
FRONTEO uses the in-house developed AI engines "KIBIT", "Concept Encoder (trademark: conceptencoder, reading: concept encoder)", and "Looca Cross", which are specialized in natural language processing. It is a data analysis company that supports the business of companies by extracting meaningful and important information from a huge amount of text data. Since its establishment in August 2003, it has been expanding globally to Japan, the United States, South Korea, and Taiwan, focusing on legal tech businesses such as "e-discovery (electronic discovery)" and "digital forensic investigation" that support corporate international litigation. Has been deployed.Based on the AI ​​technology cultivated in this business, we will expand the business field to the life science field, business intelligence field, and economic security from 8, and by using AI to "turn text data into knowledge", We contribute to solving various corporate issues such as drug discovery support, dementia diagnosis support, financial, personnel, and sales support. Listed on TSE Mothers (currently TSE Growth) on June 2014, 2007. Obtained a first-class medical device manufacturing and sales business license in January 6 (permit number: 26B2021X1), and notified the managed medical device sales business in September of the same year (notification number: 13 Minato Misei Equipment No. 1).The capital is 10350 thousand yen (as of March 9, 3).

* FRONTEO, Amanogawa, KIBIT, conceptencoder, and Looca Cross are registered trademarks of FRONTEO in Japan.