2022.10.31
Press release
--To the press -
AI review tool "KIBIT Automator" equipped with algorithm with improved accuracy and new Landscaping
AI supports strategy design in the early stages of review
FRONTEO Inc.
Masahiro Morimoto, President and CEO
2-12-23 Konan, Minato-ku, Tokyo
(Code number: 2158 TSE Growth)
 FRONTEO Co., Ltd. (Headquarters: Minato-ku, Tokyo, President: Masahiro Morimoto, hereinafter referred to as FRONTEO) is an AI algorithm installed in the self-developed AI review tool "KIBIT Automator". Landscaping (reading: landscaping)" with improved accuracy (Reference: Press release "FRONTEO succeeds in improving AI algorithm that captures the subtleties of human behavior"https://www.fronteo.com/20220824) is now available.
 In the review work of digital forensics (information preservation and analysis investigation targeting information recorded on digital devices), from huge amounts of data that are not easy for human review, necessary evidence documents are collected in a limited time. are required to be found accurately. KIBIT Automator is an AI solution that reduces the burden on experts involved in work by finding documents related to evidence with high accuracy and suggesting the optimal value for the amount of documents that should be reviewed by human eyes. .We have been improving the AI ​​engine installed in KIBIT Automator for a long time, improving analysis accuracy and shortening work time, and have greatly contributed to reducing the labor and cost of review work.
 The new Landscaping, which has been improved this time, has significantly improved classification accuracy while maintaining the conventional advantages of high speed and light calculation processing (see figure, using FRONTEO test data).This is especially useful in the early stages of operations when developing a review strategy.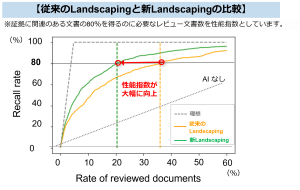 In the early stages of the review strategy, all the necessary data is often not available, and there are often cases where the quality and quantity of the training data that are essential for AI to learn to make decisions are insufficient.Even in such a situation, New Landscaping can repeat trial and fine-tuning of highly accurate AI model building, so it is possible to perform optimal analysis according to the situation at that time.In addition, it contributes to strategy design such as which reviewer should review which data set in what order, and efficiency improvement at the time of efficient start dash of review.
 FRONTEO will continue to develop and improve AI solutions that meet various needs and provide high-quality services, and will work to reduce the workload and improve efficiency in responding to complex and diverse corporate lawsuits and investigations. increase.
■ About KIBIT Automator URL: https://legal.fronteo.com/products/kibit-automator/
"KIBIT Automator" improves the efficiency of document review work in electronic discovery (e-discovery), reduces the burden on workers, and reduces costs, among other discoveries required in the trial proceedings of US civil proceedings. An AI tool developed for the purpose, released in March 2019.We apply the research method used in discovery and utilize AI to examine and analyze large-capacity e-mails and electronic files that are evidence materials.In recent years, it is expected to respond to the short-term information disclosure required of companies.

■ About FRONTEO URL:https://www.fronteo.com/
FRONTEO uses the in-house developed AI engines "KIBIT", "Concept Encoder (trademark: conceptencoder, reading: concept encoder)", and "Looca Cross", which are specialized in natural language processing. It is a data analysis company that supports the business of companies by extracting meaningful and important information from a huge amount of text data. Since its establishment in August 2003, it has been expanding globally to Japan, the United States, South Korea, and Taiwan, focusing on legal tech businesses such as "e-discovery (electronic discovery)" and "digital forensic investigation" that support corporate international litigation. Has been deployed.Based on the AI ​​technology cultivated in this business, we will expand the business field to the life science field, business intelligence field, and economic security from 8, and by using AI to "turn text data into knowledge", We contribute to solving various corporate issues such as drug discovery support, dementia diagnosis support, financial, personnel, and sales support. Listed on TSE Mothers (currently TSE Growth) on June 2014, 2007. Obtained a first-class medical device manufacturing and sales business license in January 6 (permit number: 26B2021X1), and notified the managed medical device sales business in September of the same year (notification number: 13 Minato Misei Equipment No. 1).The capital is 10350 thousand yen (as of March 9, 3).

* FRONTEO, KIBIT Automator, KIBIT, conceptencoder, and Looca Cross are registered trademarks of FRONTEO in Japan.