2022.07.21
Press release
--To the press -
FRONTEO develops algorithm that balances ensemble learning and performance prediction with in-house developed AI engine KIBIT
Maintains extremely low CO2 emissions associated with AI power usage without increased computational costs
FRONTEO Inc.
Masahiro Morimoto, President and CEO
2-12-23 Konan, Minato-ku, Tokyo
(Code number: 2158 TSE Growth)
FRONTEO Inc. (Headquarters: Minato-ku, Tokyo, President: Masahiro Morimoto, hereafter FRONTEO) has not related the AI ​​engine "KIBIT" developed in-house to documents related to evidence in digital forensics. We are pleased to inform you that we have improved the algorithm for predicting the performance of classifying documents and succeeded in creating a prediction function without increasing the calculation cost and power consumption.In addition, by combining this improvement with the workflow of active learning, it is converted into the cost of document review by humans, and in addition to the performance improvement accumulated so far, the classification performance improvement equivalent to a reduction of up to 20% is realized at the same time. Did.
 The amount of data managed by companies is steadily increasing year by year, and in digital forensics (information security and analysis surveys targeting information recorded on digital devices), several TB per evidence holder (Castdian). You have to collect data that can range up to, and discover evidence-related documents in a vast amount of documents within a limited period of time.Time, quality and cost are major challenges for lawyers involved in research.Among them, document review, which is the process of discovering related information, is said to account for about 1% of the time and cost, and the use of AI is indispensable. KIBIT is already in operation in the United States and Japan in the legal tech area, and has realized a significant reduction in the amount of documents related to reviews and a reduction in time.
 FRONTEO is now using Illumination Forest *, a cross-validation method that is reliable for predicting the performance of machine learning models.1We have created a new original algorithm that has been diverted to the structure of ensemble learning that has.The cross-validation method has the weakness that the calculation cost increases depending on the number of verifications.However, this improvement provides users with accurate AI model performance predictions with each learning without increasing computational time, machine power or power consumption.High-speed and highly accurate automatic performance prediction enables planned review operations that are important in digital forensics, and is particularly effective for collaborative learning between AI and humans called continuous active learning. increase.
 Furthermore, in a test using FRONTEO test data and combining this algorithm with workflow improvement, as shown in Fig. XNUMX, the recall rate * was compared with the conventional one.2 Significantly improved, further reducing the number of review documents required to find 80% of relevant documents as evidence by up to 20%, and Margin of Error * within up to 2% of the required number of review documents.3 At the same time, we realized the prediction before the review in.
 As a pioneer in digital forensics and discovery (discovery procedures in the US civil litigation system) in Japan, FRONTEO will continue to develop and improve solutions that help streamline fraud investigations and litigation support, and achieve high performance with consideration for reducing environmental impact. MicroAI *4 We will strive to realize.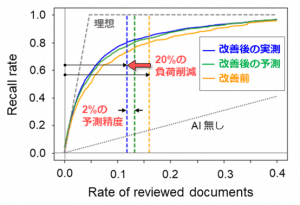 Figure 40. Comparison of before improvement (without prediction function) and after improvement (with prediction function and high accuracy). Compared to the review without AI (random sampling), it showed high classification performance before the improvement, but after the improvement, it has realized higher classification performance and highly accurate prediction function.To improve the visibility of the figure, the maximum value on the horizontal axis has been expanded to XNUMX%.
* 1 Illumination Forest: FROTNEO's original algorithm based on random forest and neural network.It is designed for document reviews with a high percentage of related documents (richness) as evidence, and is expected to be applied to more projects in the future.
* 2 Recall Rate: Recall rate.Percentage of all data that is relevant as evidence that is correctly predicted to be relevant.
* 3 Margin of Error: Standard deviation that inevitably occurs due to random sampling of teacher data.
* 4 microAI: AI concept advocated by FRONTEO.It demonstrates high performance with low power consumption (calculation cost) and a small amount of teacher data without using large-scale calculation.

■ About KIBIT URL: https://www.fronteo.com/products/kibit/
"KIBIT" is an artificial intelligence that analyzes text without relying on keywords, using a unique machine learning algorithm that reproduces the "tacit knowledge" possessed by specialists and business experts.Highly accurate analysis in a short time is possible with a small amount of teacher data.
■ About FRONTEO URL: https://www.fronteo.com/
FRONTEO uses the in-house developed AI engines "KIBIT", "Concept Encoder (trademark: conceptencoder, reading: concept encoder)", and "Looca Cross", which are specialized in natural language processing. It is a data analysis company that supports the business of companies by extracting meaningful and important information from a huge amount of text data. Since its establishment in August 2003, it has been expanding globally to Japan, the United States, South Korea, and Taiwan, focusing on legal tech businesses such as "e-discovery (electronic discovery)" and "digital forensic investigation" that support corporate international litigation. Has been deployed.Based on the AI ​​technology cultivated in this business, we will expand the business field to the life science field, business intelligence field, and economic security from 8, and by using AI to "turn text data into knowledge", We contribute to solving various corporate issues such as drug discovery support, dementia diagnosis support, financial, personnel, and sales support. Listed on TSE Mothers (currently TSE Growth) on June 2014, 2007. Obtained a first-class medical device manufacturing and sales business license in January 6 (permit number: 26B2021X1), and notified the managed medical device sales business in September of the same year (notification number: 13 Minato Misei Equipment No. 1).The capital is 10350 thousand yen (as of March 9, 3).
* FRONTEO, KIBIT, conceptencoder, and Looca Cross are registered trademarks of FRONTEO in Japan.