2022.07.19
Press release
--To the press -
FRONTEO Advisor Yukio Osawa, Professor of the University of Tokyo Graduate School, Receives "Achievement Award" at the Japanese Society for Artificial Intelligence
FRONTEO Inc.
Masahiro Morimoto, President and CEO
2-12-23 Konan, Minato-ku, Tokyo
(Code number: 2158 TSE Growth)
 FRONTEO Inc. (Headquarters: Minato-ku, Tokyo, President: Masahiro Morimoto) received the "Achievement Award" at the Artificial Intelligence Society by Professor Yukio Osawa, Department of Systems Innovation, Graduate School of Engineering, University of Tokyo. I will inform you that I have done it.
 Professor Osawa is a pioneer in data market design, and is working on the construction of data markets using the analysis method "Data Jacket" that he developed.This is an advanced form of research on opportunity discovery technology to capture and visualize valuable data and drive new innovation and value creation in society through research that transcends boundaries such as industry, government, private sector, international, and interdisciplinary. It is positioned in. At FRONTEO, we position the study of behavioral information science research from a strategic point of view as a developmental application of research so far, and play an important role as an advisor for research and development and social contribution.
 In 2013, Professor Osawa proposed Innovators' Marketplace on Data Jacket (IMDJ), a process for designing data and visualizing the latent structure of objects from available data, and made IMDJ not only in a single field but also in different fields. We have expanded into a multi-layered space where data is distributed, and have been conducting research and development to explain the interaction between data in the creative data market consisting of networks of heterogeneous data. IMDJ's method was also applied to the COVID-19 epidemic prediction project, discovering the principle of Stay with Your Community, which means that the distribution of people, especially "contact with strangers", is essential information. , Announced in 2020.This award was given because the consistent research results over a quarter of a century on the essence of such data analysis deserve the "Achievement Award" of the Japanese Society for Artificial Intelligence.This is the first award winner in six years since 2015.
[Comment by Professor Osawa]
I am truly honored.Artificial intelligence is not synonymous with machine learning, it is a much larger field, and I think Japan's artificial intelligence is the world leader in the development and attractiveness of pursuing the dreams and essence of that vast field. increase. At FRONTEO, we would be happy if we could contribute to innovation that connects people with the AIs that are born, in addition to individual AI technologies.Going forward, we will continue to contribute to the development of engineering and 3D collaboration (industry-government-private academia x international x interdisciplinary) that fosters knowledge systems, and provide insights from a strategic perspective in the development of FRONTEO's behavioral information science research. ..
[Biography of Professor Osawa]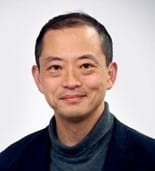 After obtaining a doctor of engineering from the University of Tokyo Graduate School of Engineering in 1995, he became an assistant professor at the Graduate School of Basic Engineering, University of Tokyo, an assistant professor at the Graduate School of Business Sciences, University of Tsukuba, a specially appointed assistant professor at the Graduate School of Information Science and Engineering, the University of Tokyo, and the system creation of the Graduate School of Engineering. After working as an associate professor in the Department of Science, he has been a professor since July 2009.He founded opportunity discovery science and data market design science at the boundary between intelligent informatics and design science, cognitive science, and held international conferences and industry-academia WS. He has led workshops such as the Market of Data to success since 7 in terms of the data market at the Institute of Electrical and Electronics Engineers (ICDM).The Japanese Society for Artificial Intelligence has begun internationalization at the workshop (2013) and the national convention (2001), respectively.
In addition to 2003 books including "Chance Discovery" (Springer, 2017), "Innovators' Marketplace" (Springer, 2017), and Data Market (Modern Science, 24), more than 100 journal articles and international conferences. Approximately 200 papers and many invited lectures in both industry and academia.He is a board member of the Japanese Society for Artificial Intelligence (2017-18).Received the Achievement Award of the Japanese Society for Artificial Intelligence (2017).
■ About FRONTEO URL: https://www.fronteo.com/
 FRONTEO uses an in-house developed AI engine "KIBIT" specializing in natural language processing, "Concept Encoder (trademark: conceptencoder, reading: concept encoder)", and "Looca Cross (reading: Luca Cross)" to create a huge amount of text. It is a data analysis company that extracts meaningful and important information from data and supports the business of the company. Since its establishment in August 2003, it has been expanding globally to Japan, the United States, South Korea, and Taiwan, focusing on legal tech businesses such as "e-discovery (electronic discovery)" and "digital forensic investigation" that support corporate international litigation. Has been deployed.Based on the AI ​​technology cultivated in this business, we will expand the business field to the life science field, business intelligence field, and economic security from 8, and by using AI to "turn text data into knowledge", We contribute to solving various corporate issues such as drug discovery support, dementia diagnosis support, finance, personnel, and sales support. Listed on TSE Mothers (currently TSE Growth) on June 2014, 2007. Obtained a first-class medical device manufacturing and sales business license in January 6 (permit number: 26B2021X1), and notified the managed medical device sales business in September of the same year (notification number: 13 Minato Misei Equipment No. 1).The capital is 10350 thousand yen (as of March 9, 3).
* FRONTEO, KIBIT, conceptencoder, and Looca Cross are registered trademarks of FRONTEO in Japan.