2022.06.22
Press release
--To the press -
FRONTEO achieves improved accuracy of document analysis by combining two types of in-house developed AI engines
FRONTEO Inc.
Masahiro Morimoto, President and CEO
2-12-23 Konan, Minato-ku, Tokyo
(Code number: 2158 TSE Growth)
 FRONTEO Inc. (Headquarters: Minato-ku, Tokyo, President: Masahiro Morimoto, hereafter FRONTEO) is now a teacher in customer data analysis with AI solutions equipped with artificial intelligence "KIBIT". By using artificial intelligence "Concept Encoder (trademark: conceptencoder, reading: concept encoder)" to select a model for data creation, we succeeded in creating highly accurate teacher data in a short period of time, and smoothed the customer's project. We are pleased to inform you that we have achieved rapid progress and the provision of higher quality services to our client companies.
 Before operating KIBIT, it is necessary to learn teacher data as a judgment standard.A certain amount of training data is indispensable for proper analysis, but if a large amount of training data is unnecessarily read by AI, it will be difficult to identify important data, and the analysis accuracy may decrease.In addition, it took a lot of time and effort to select the data to be trained from a large amount of training data.Therefore, with the Concept Encoder, which has the advantage of vectorizing a large amount of text data by free description and presenting it visually, by analyzing the target document data and mapping and visualizing them, it is possible to create a large amount of data. It is now possible to smoothly understand whether such clusters are included and select data suitable for learning.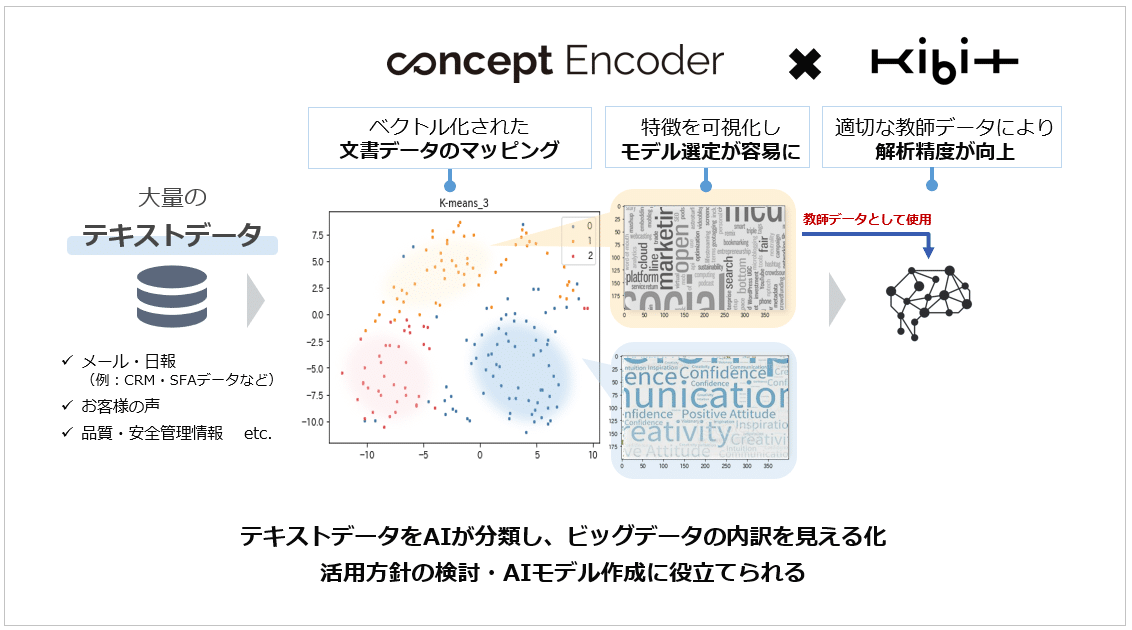 In addition to reducing the workload required to create a model of teacher data and improving work efficiency and accuracy, AI analyzes the data objectively and comprehensively, resulting in a data cluster that the customer himself was not aware of. The effects such as the presentation of the data and the standardization of clustering accuracy were also confirmed.
 This method has been successful in analyzing various types of documents such as daily business reports, academic papers, and entry sheets. FRONTEO will continue to strive to provide services that contribute to increasing the corporate value of customers by organically combining multiple AI engines developed in-house and various technologies and know-how.

■ About FRONTEO URL:https://www.fronteo.com/
FRONTEO uses the in-house developed AI engine "KIBIT", "Concept Encoder", and "Looca Cross" that specialize in natural language processing to provide meaningful and important information from a huge amount of text data. It is a data analysis company that extracts information and supports the business of the company. Since its establishment in August 2003, it has been expanding globally to Japan, the United States, South Korea, and Taiwan, focusing on legal tech businesses such as "e-discovery (electronic discovery)" and "digital forensic investigation" that support corporate international litigation. Has been deployed.Based on the AI ​​technology cultivated in this business, we will expand the business field to the life science field, business intelligence field, and economic security from 8, and by using AI to "turn text data into knowledge", We contribute to solving various corporate issues such as drug discovery support, dementia diagnosis support, finance, personnel, and sales support. Listed on TSE Mothers (currently TSE Growth) on June 2014, 2007. Obtained a first-class medical device manufacturing and sales license in January 6 (permit number: 26B2021X1), and notified the managed medical device sales business in September of the same year (notification number: 13 Minato Misei Equipment No. 1).The capital is 10350 thousand yen (as of March 9, 3).

* FRONTEO, KIBIT, conceptencoder, and Looca Cross are registered trademarks of FRONTEO in Japan.
<Contact information for the press>
Public Relations Officer, FRONTEO Inc.
Email: pr_contact@fronteo.com
<Contact for inquiries regarding business intelligence business>
FRONTEO Inc. Business Intelligence XNUMXnd Business Headquarters