2021.12.22
Press release
--To the press -
FRONTEO's fall prediction AI system "Coroban" begins empirical research at Osaka University Hospital
FRONTEO Inc.
Masahiro Morimoto, President and CEO
2-12-23 Konan, Minato-ku, Tokyo
(Code number: 2158 TSE Mothers)
 FRONTEO Inc. (Headquarters: Minato-ku, Tokyo, President: Masahiro Morimoto, hereinafter FRONTEO) has a fall prediction AI system "Coroban" provided by FRONTEO at Osaka University Hospital (Location: Fukida City, Osaka Prefecture). We are pleased to inform you that the empirical research has started at the hospital director: Yuichiro Toki (hereinafter referred to as Osaka University Hospital).
 Coroban utilizes the natural language processing AI engine "Concept Encoder (trademark: conceptencoder, reading: concept encoder)" originally developed by FRONTEO to predict the risk of falling from the nursing records written in the electronic medical record and display an alert. It is something to do.With the increase in the number of fall accidents due to the aging of the population, managing the risk of falls of inpatients has become one of the important issues in medical institutions, and various measures are being taken.However, it is difficult to reliably prevent falls, and the reality is that it is difficult to deal with them in the field.To solve this problem, FRONTEO started developing a fall prediction AI system in 1, and started selling it to medical institutions together with Eisai Co., Ltd. in 2016. We obtained a patent in January 2019 (patent registration number: Patent No. 2020).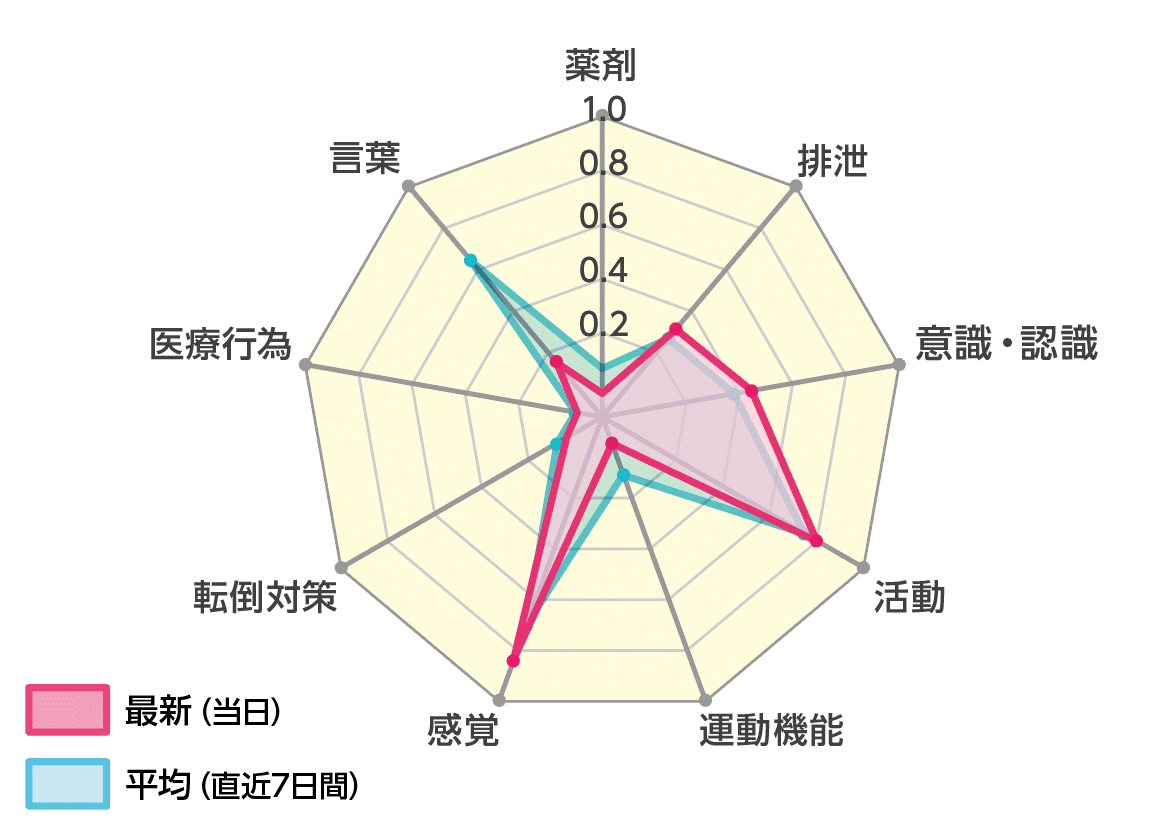 AI analyzes nursing records written in electronic medical records and evaluates the risk of falls
 Osaka University Hospital has long been focusing on fall countermeasures as part of safety management.In the future, Osaka University Hospital and FRONTEO will combine the knowledge of the experienced medical and nursing team of Osaka University Hospital with FRONTEO's state-of-the-art linguistic AI technology to make AI-based fall prevention clinical and practical. In addition to conducting evaluations, we will work to provide new added value through collaboration between humans and AI, and further improve the functions and usability of this system.This case is being implemented as part of the activities of the Strategic Innovation Creation Program (SIP) "Advanced Diagnosis and Treatment System by AI (Artificial Intelligence) Hospital" undertaken by the Cabinet Office.
 FRONTEO will continue to contribute to solving medical and social issues in Japan through research and development of safe and practical medical devices and software that utilize AI.

■ About Coroban
 URL:
https://lifescience.fronteo.com/aidevice/coroban/
Coroban is a fall prediction system using the artificial intelligence Concept Encoder developed by FRONTEO in collaboration with Eisai Inc. The Concept Encoder reads the electronic medical record and evaluates the risk of falls from the patient's condition and nursing records.It is possible to make predictions with the same accuracy as the conventional fall risk assessment sheet without increasing the burden on medical staff.Patent registration number: Patent No. 6652986
■ About Concept Encoder
 URL:
https://lifescience.fronteo.com/technology/conceptencoder/
"Concept Encoder" is a natural language analysis AI (artificial intelligence) developed by FRONTEO specially in the life science field.It was developed in 2018 with the aim of effectively analyzing and utilizing medical data containing a large amount of free-form text data based on evidence. Concept Encoder can be co-analyzed with data other than text, and we are conducting research on co-analysis with numerical data such as gene expression information, vitals, and various test values ​​accumulated in the life science field.Patent registration number: Patent No. 6346367
■ About FRONTEO
 URL:
https://www.fronteo.com/
FRONTEO uses the in-house developed AI engines "KIBIT", "Concept Encoder", and "Looca Cross" that specialize in natural language processing to extract meaningful and important information from a huge amount of text data, and is used by companies. A data analysis company that supports business. Since its establishment in August 2003, it has been expanding globally to Japan, the United States, South Korea, and Taiwan, focusing on legal tech businesses such as "e-discovery (electronic discovery)" and "digital forensic investigation" that support corporate international litigation. Has been deployed.Based on the AI ​​technology cultivated in this business, we will expand the business field to the life science field, business intelligence field, and economic security from 8, and by using AI to "turn text data into knowledge", We contribute to solving various corporate issues such as drug discovery support, dementia diagnosis support, financial, personnel, and sales support. Listed on TSE Mothers on June 2014, 2007. Obtained a first-class medical device manufacturing and sales business license in January 6 (permit number: 26B2021X1), and notified the managed medical device sales business in September of the same year (notification number: 13 Minato Misei Equipment No. 1).The capital is 10350 thousand yen (as of March 9, 3).
* FRONTEO, KIBIT, conceptencoder, and Coroban are registered trademarks of FRONTEO in Japan.
<Contact information for the press>
Public Relations Officer, FRONTEO Inc.
Email: pr_contact@fronteo.com
<Inquiries about Life Science AI Business>
FRONTEO Inc. Life Science AI Business Headquarters