2021.12.09
Press release
--To the press -
FRONTEO obtains patent for medical paper search AI software "Amanogawa"
FRONTEO Inc.
Masahiro Morimoto, President and CEO
2-12-23 Konan, Minato-ku, Tokyo
(Code number: 2158 TSE Mothers)
 FRONTEO Inc. (Headquarters: Minato-ku, Tokyo, President: Masahiro Morimoto, hereinafter FRONTEO) is pleased to announce that it has obtained a patent in Japan for the medical paper search AI software "Amanogawa".
 Patent registration number: Patent No. 6976537
 Registration date: January 2021, 11
 Amanogawa is a system that detects and analyzes keywords, hypotheses, and abstracts (article abstracts) entered by searchers from articles published in PubMed *.It has been highly evaluated for its ability to discover target papers and information that has not been noticed until now, searchability, and high visibility from a huge number of papers, and its introduction is progressing mainly among pharmaceutical companies and academia. increase.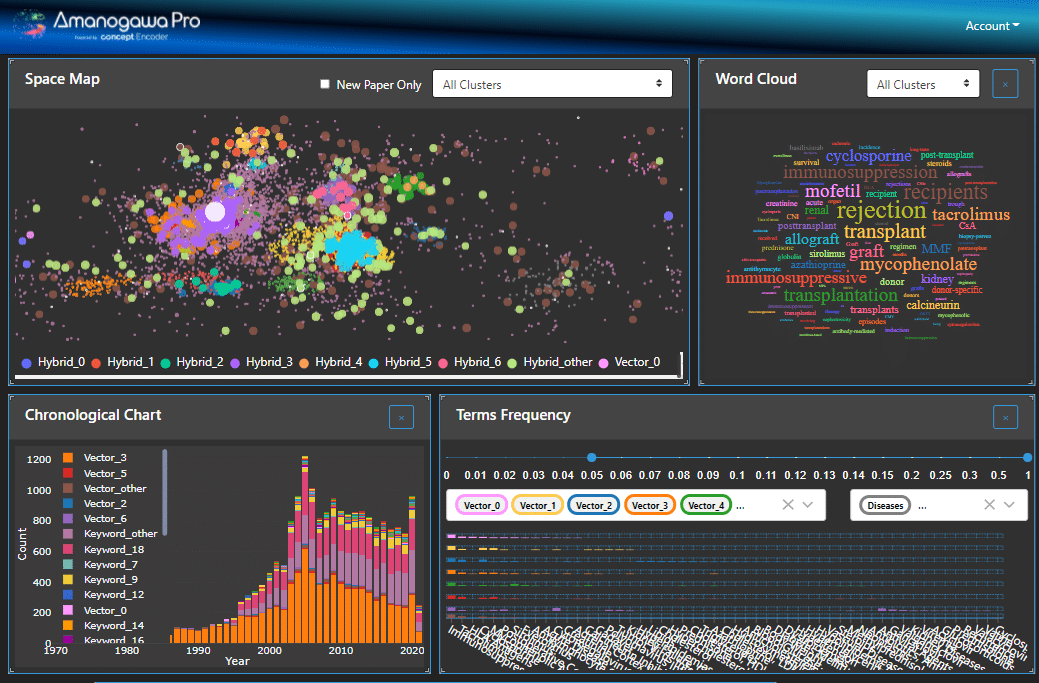 "Amanogawa" application screen example. Each point of "Space Map" shows a treatise
 FRONTEO aims to improve the efficiency and quality of medical / pharmaceutical research and medical data utilization, and promote DX (digital transformation) in the life science field through research and development and provision of highly original AI systems such as Amanogawa. I will work on it.
* PubMed: A database of biomedical papers created by the National Center for Biological Sciences in the National Library of Medicine.

■ About FRONTEO
 URL:
https://www.fronteo.com/
FRONTEO uses the in-house developed AI engines "KIBIT", "Concept Encoder", and "Looca Cross" that specialize in natural language processing to extract meaningful and important information from a huge amount of text data, and is used by companies. A data analysis company that supports business. Since its establishment in August 2003, it has been expanding globally to Japan, the United States, South Korea, and Taiwan, focusing on legal tech businesses such as "e-discovery (electronic discovery)" and "digital forensic investigation" that support corporate international litigation. Has been deployed.Based on the AI ​​technology cultivated in this business, we will expand the business field to the life science field, business intelligence field, and economic security from 8, and by using AI to "turn text data into knowledge", We contribute to solving various corporate issues such as drug discovery support, dementia diagnosis support, financial, personnel, and sales support. Listed on TSE Mothers on June 2014, 2007. Obtained a first-class medical device manufacturing and sales business license in January 6 (permit number: 26B2021X1), and notified the managed medical device sales business in September of the same year (notification number: 13 Minato Misei Equipment No. 1).The capital is 10350 thousand yen (as of March 9, 3).
■ About Concept Encoder
 URL:
https://lifescience.fronteo.com/technology/conceptencoder/
"Concept Encoder" is a natural language analysis AI (artificial intelligence) developed by FRONTEO specially in the life science field.It was developed in 2018 with the aim of effectively analyzing and utilizing medical data containing a large amount of free-form text data based on evidence. Concept Encoder can be co-analyzed with data other than text, and we are conducting research on co-analysis with numerical data such as gene expression information, vitals, and various test values ​​accumulated in the life science field.Patent registration number: Patent No. 6346367
* FRONTEO, KIBIT, conceptencoder, and Amanogawa are registered trademarks of FRONTEO in Japan.
<Contact information for the press>
Public Relations Officer, FRONTEO Inc.
Email: pr_contact@fronteo.com
<Inquiries about Life Science AI Business>
FRONTEO Inc. Life Science AI Business Headquarters