2021.11.04
Press release
--To the press -
FRONTEO launches second shareholder-controlled network analysis solution for economic security measures using AI "Looca Cross" specializing in network analysis
Detecting organizations that directly / indirectly effectively control a company from the analysis of holding relationships
FRONTEO Inc.
Masahiro Morimoto, President and CEO
東京 都 港区 港 南 2-12-23
(Code number: 2158 TSE Mothers)
FRONTEO Inc. (Headquarters: Minato-ku, Tokyo, President: Masahiro Morimoto, hereinafter FRONTEO) is pleased to announce the economic security measures network analysis system "Seizu Analysis" equipped with FRONTEO's third AI "LoocaCross". (Say's Analysis) "will be available as the second solution," Shareholder Control Network Analysis Solution ".
FRONTEO released "Seizu Analysis Supply Chain Network Analysis Solution" in October 2021.In order to ensure the economic security of a company, it is necessary to evaluate not only the safety and soundness in the supply chain network, but also what kind of entity (state, company, individual) effectively controls the company. From the need for importance, in cooperation with the function of supply chain network analysis, not only direct control by holding control but also indirect control from a distance is evaluated by an index called effective indirect holding ratio, and the risk is visualized. Dominant network analysis solution "is now available.You can detect all entities that can indirectly and effectively control a company, show the route to them, check their nationality, and check whether they are listed on various sanctions lists.
Features of "Seizu Analysis Shareholder Control Network"
In "Seizu Analysis Shareholder Control Network Analysis Solution", the following three can be viewed from a bird's-eye view for the entity to be investigated.At that time, basic information (location, industry, shareholding ratio, etc.) about the company listed in various entity lists is also displayed.
① A bird's-eye view of the entity that will be a direct shareholder
(XNUMX) A bird's-eye view of the entire network connected by indirect holding relationships
(XNUMX) A bird's-eye view of the entire network that reflects the effective indirect holding ratio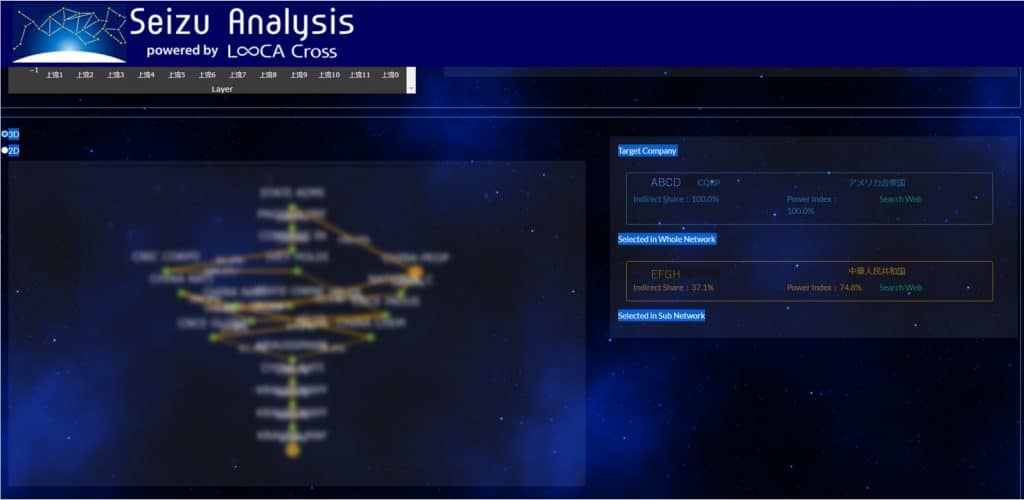 In addition, the Seizu Analysis Shareholder Control Network Analysis Solution presents key control paths from a particular entity to the entity being analyzed.If a company on the various entity lists is on the route, it will be highlighted so that you can also see information about that company.
FRONTEO will continue to find out the information that companies want to know in a short period of time through the functional expansion of the network analysis system "Seizu Analysis" equipped with AI "Looca Cross", and based on that, intend to formulate strategies related to economic security. We will support the decision.
Click here for more information on FRONTEO's economic security solutions.https://osint.fronteo.com/
■ FRONTEO  URL: https://www.fronteo.com/
FRONTEO uses the in-house developed AI engines "KIBIT", "Concept Encoder", and "Looca Cross" that specialize in natural language processing to extract meaningful and important information from a huge amount of text data, and is used by companies. A data analysis company that supports business. Since its establishment in August 2003, it has been expanding globally to Japan, the United States, South Korea, and Taiwan, focusing on legal tech businesses such as "e-discovery (electronic discovery)" and "digital forensic investigation" that support corporate international litigation. Has been deployed.Based on the AI ​​technology cultivated in this business, we will expand the business field to the life science field, business intelligence field, and economic security from 8, and by using AI to "turn text data into knowledge", We contribute to solving various corporate issues such as drug discovery support, dementia diagnosis support, financial, personnel, and sales support. Listed on TSE Mothers on June 2014, 2007. Obtained a first-class medical device manufacturing and sales business license in January 6 (permit number: 26B2021X1), and notified the managed medical device sales business in September of the same year (notification number: 13 Minato Misei Equipment No. 1).The capital is 10350 thousand yen (as of March 9, 3).
* FRONTEO, KIBIT, and concept encoder are registered trademarks of FRONTEO in Japan.
<Contact information for the press>
FRONTEO Inc. Public Relations Takigawa
FAX: 03-5463-6345 Email: pr_contact@fronteo.com