2021.11.01
Press release
--To the press -
FRONTEO uses AI review tool "KIBIT Automator" to significantly improve the review quality of fraud investigation cases in the United States
Detects missed important documents with about 8 times the accuracy of random sampling
FRONTEO Inc.
Masahiro Morimoto, President and CEO
東京 都 港区 港 南 2-12-23
(Code number: 2158 TSE Mothers)
FRONTEO Inc. (Headquarters: Minato-ku, Tokyo, President: Masahiro Morimoto, hereafter FRONTEO) is now using the AI-based document review tool "KIBIT Automator" in international fraud investigation projects. We are announcing that we have efficiently detected misjudgment by reviewers and achieved a significant improvement in error rate.
Discovery in US civil courts requires you to accurately find evidence in a huge amount of documents within a limited amount of time. FRONTEO's AI-based document review tool "KIBIT Automator" is already in operation in the United States and Japan, reducing the amount of documents that require a lawyer's review by up to 90% and the amount of review documents per hour. We have achieved results such as a significant speedup of more than 650 cases (30-40 cases / hour visually by humans).
In document reviews using KIBIT Automator, lawyers "relevant / relevant" randomly selected documents from a huge number of documents to be investigated (which may reach millions depending on the case). It is classified as "no sex".AI learns the classified data as teacher data, and AI gives a score to the document to be investigated based on the judgment of the lawyer (1 to 10,000 points, the higher the score, the more relevant the judgment) ).Reviewers have improved work efficiency and speed by proceeding with reviews in descending order of score.
In this fraud investigation project, we are utilizing the heat map function with enhanced review quality improvement function.At the end of the primary review, the documents marked "relevant" will be used as teacher data, and all documents tagged "unrelated" in the primary review will be analyzed again by AI and the score will be reassigned. ..Among them, documents in which the judgment of AI and the judgment of the reviewer are greatly different (example: AI judges that it is "highly relevant", but the reviewer seems to judge that it is "not relevant". By marking (the document displayed in dark red in the figure and highlighted by the frame) and reconfirming the document with priority, it is possible to prevent omissions and omissions due to human judgment mistakes. (Approximately 8 times the accuracy of the error detection rate by random sampling).
<Conventional method>
・ Randomly sample some documents that are judged to be "irrelevant" in the primary review and review them again.
<Priority confirmation based on heat map + AI and human judgment divergence>
・ AI analyzes documents that are judged to be "irrelevant". Reconfirm from the one with the highest degree of divergence between AI and human judgment
<Result>
By reconfirming documents with a high degree of divergence, we succeeded in extracting "relevant" documents that were mistakenly classified as "unrelevant" with about eight times the accuracy of conventional methods.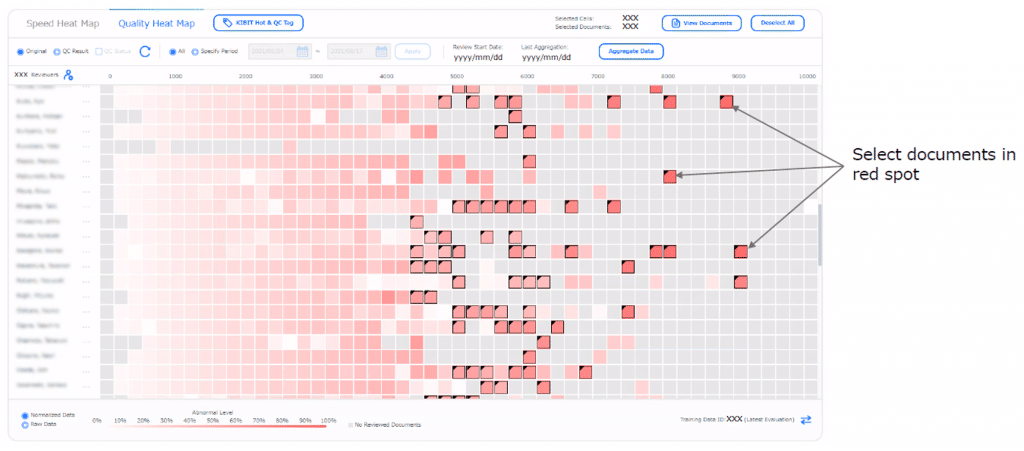 As a pioneer of digital forensics / discovery in Japan, FRONTEO will continue to strive to improve and develop solutions that help streamline fraud investigations and litigation support.
KIBIT Automator  URL: https://legal.fronteo.com/products/kibit-automator/
"KIBIT Automator" improves the efficiency of document review work in electronic discovery (e-discovery), reduces the burden on workers, and reduces costs, among other discoveries required in the trial proceedings of US civil proceedings. An AI tool developed for the purpose, released in March 2019.We apply the research method used in discovery and utilize AI to examine and analyze large-capacity e-mails and electronic files that are evidence materials.In recent years, it is expected to respond to the short-term information disclosure required of companies.
■ FRONTEO  URL: https://www.fronteo.com/
FRONTEO uses the in-house developed AI engines "KIBIT", "Concept Encoder", and "Looca Cross" that specialize in natural language processing to extract meaningful and important information from a huge amount of text data, and is used by companies. A data analysis company that supports business. Since its establishment in August 2003, it has been expanding globally to Japan, the United States, South Korea, and Taiwan, focusing on legal tech businesses such as "e-discovery (electronic discovery)" and "digital forensic investigation" that support corporate international litigation. Has been deployed.Based on the AI ​​technology cultivated in this business, we will expand the business field to the life science field, business intelligence field, and economic security from 8, and by using AI to "turn text data into knowledge", We contribute to solving various corporate issues such as drug discovery support, dementia diagnosis support, financial, personnel, and sales support. Listed on TSE Mothers on June 2014, 2007. Obtained a first-class medical device manufacturing and sales business license in January 6 (permit number: 26B2021X1), and notified the managed medical device sales business in September of the same year (notification number: 13 Minato Misei Equipment No. 1).The capital is 10350 thousand yen (as of March 9, 3).
<Contact information for the press>
FRONTEO Inc. Public Relations Takigawa
FAX: 03-5463-6345 Email: pr_contact@fronteo.com