2021.10.27
Press release
--To the press -
FRONTEO Korea and Contents Bridge form business alliance to strengthen internal fraud investigation / audit solution business
FRONTEO Inc.
Masahiro Morimoto, President and CEO
2-12-23 Konan, Minato-ku, Tokyo
(Code number: 2158 TSE Mothers)
 FRONTEO Korea, Inc. (Location: Seoul, South Korea, Representative: Naoki Kang, hereinafter FRONTEO Korea), a Korean subsidiary of FRONTEO Inc. (Headquarters: Minato-ku, Tokyo, President: Masahiro Morimoto, hereinafter FRONTEO) We are pleased to announce that we have formed a business alliance with Korean IT service company ContentsBridge (Location: Seoul, South Korea, Representative: Yoo Sung-hoon, hereinafter referred to as ContentsBridge) with the aim of strengthening Digital Forensic and Internal Fraud Investigation ∙ Audit Solution Business.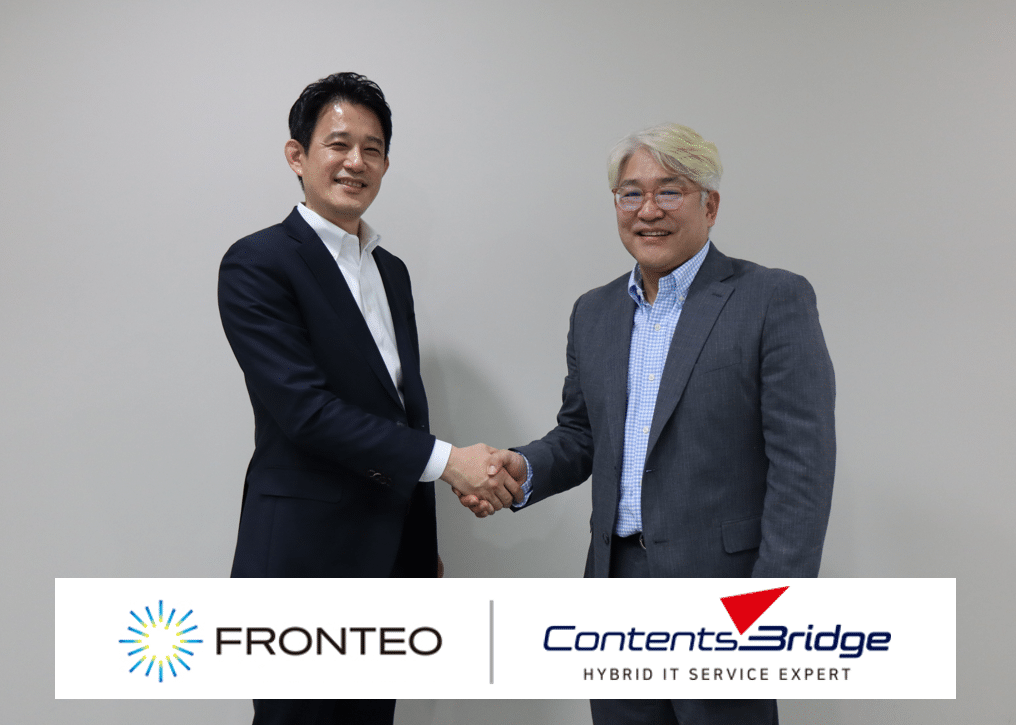 Contents Bridge Vice President John Chormin (right) and FRONTEO Korea Representative Kang Sang Jung
 In recent years, various fraudulent acts such as leakage of confidential information, collusion, and embezzlement have frequently occurred in companies, and companies are having difficulty in dealing with them.It is very important to detect and prevent the occurrence of such an incident, as it will lead to enormous cost loss, image loss, and corporate value reduction for the company.
 Through this business alliance, ContentsBridge will sell the internal fraud investigation ∙ audit solution "Lit i View XAMINER" and the mail & chat audit system "Communication Meter ver.2.0" originally developed by FRONTEO, technical ∙ service support, training for users, Build a platform, etc.The two companies also plan to co-sponsor seminars on prevention and investigation of fraudulent activities for major companies and government agencies.
Comments from Vice President of ContentsBridge John Chormin
"We look forward to expanding our business through collaboration with FRONTEO, a global company in the legal tech field. We will actively support the construction of services in this field and expand services while making use of the experience and know-how that ContentsBridge has accumulated over many years. I will try to do it. "
Comment from FRONTEO Korea Representative Kang Sang Jung
"Recently, with increasing awareness of compliance and ESG, the demand for internal fraud investigation ∙ audit solutions is increasing, and about Lit i View XAMINER and Communication Meter ver.2.0 based on AI technology originally developed by FRONTEO. The market is also expected to expand. We have great expectations for the business alliance with ContentsBridge, which has abundant experience in IT infrastructure operation and develops various AI-related technologies and services. "

■ About Contents Bridge
 URL:
https://www.conbridge.kr/
ContentsBridge is a company specializing in IT services that has abundant experience in operating IT infrastructure and provides consulting, construction, and management of network environments for Internet data centers and clouds. Founded in 2006, it has 80 IT professionals and annual sales of 200 billion won.It has more than 600 customers and operates more than 400GB of traffic in more than 500 racks.We aim to provide "more comfortable" services to our customers by leveraging our diverse and abundant construction cases and successful experiences.
■ About FRONTEO
 URL:
https://www.fronteo.com/
FRONTEO uses the in-house developed AI engines "KIBIT", "Concept Encoder", and "Looca Cross" that specialize in natural language processing to extract meaningful and important information from a huge amount of text data, and is a company. It is a data analysis company that supports the business of. Since its establishment in August 2003, it has been expanding globally to Japan, the United States, South Korea, and Taiwan, focusing on legal tech businesses such as "e-discovery (electronic discovery)" and "digital forensic investigation" that support corporate international litigation. Has been deployed.Based on the AI ​​technology cultivated in this business, we will expand the business field to the life science field, business intelligence field, and economic security from 8, and by using AI to "turn text data into knowledge", We contribute to solving various corporate issues such as drug discovery support, dementia diagnosis support, financial, personnel, and sales support. Listed on TSE Mothers on June 2014, 2007. Obtained a first-class medical device manufacturing and sales business license in January 6 (permit number: 26B2021X1), and notified the managed medical device sales business in September of the same year (notification number: 13 Minato Misei Equipment No. 1).The capital is 10350 thousand yen (as of March 9, 3).
■ About Lit i View
 URL:
URL: https://legal.fronteo.com/products/e-discovery/
Lit i View is a solution that covers the eDiscovery process flow (from data processing to document review), offering flexible workflows, powerful search capabilities, and text analysis capabilities.An eDiscovery software that can accurately identify and process Asian character sets and various file applications.
■ About Communication Meter
 URL:
https://kibit.fronteo.com/products/communication-meter/
"Communication Meter" is a mail & chat audit system equipped with the natural language processing AI engine "KIBIT" developed by FRONTEO. KIBIT uses a unique algorithm to capture similarities and contexts even in different expressions and extract the features of sentences, eliminating excessive extraction due to a large number of keyword settings and omissions due to notational fluctuations, with high accuracy. Message extraction is possible.In addition, KIBIT comprehensively analyzes the text and attachments (text-extractable) as well as the date and time of transmission / reception, the name of the sender / receiver, and the subject, and it is possible to narrow down the messages that need to be investigated from a large number of messages. Therefore, the work of auditors will be significantly reduced, and it will contribute to the construction of an efficient audit system, early detection of fraud and prevention of recurrence.
* FRONTEO, KIBIT, and concept encoder are registered trademarks of FRONTEO in Japan.