2021.10.19
Press release
--To the press -
FRONTEO launches medical treatise search AI "Amanogawa" on Microsoft Azure
FRONTEO Inc.
Masahiro Morimoto, President and CEO
2-12-23 Konan, Minato-ku, Tokyo
(Code number: 2158 TSE Mothers)
 FRONTEO Inc. (Headquarters: Minato-ku, Tokyo, President: Masahiro Morimoto, hereinafter FRONTEO) has started to provide medical paper search AI "Amanogawa" on the cloud platform "Microsoft Azure" provided by Microsoft. ..
 From May 2020, FRONTEO will use the natural language processing AI engine "KIBIT" as the API for the mail and chat audit system "Communication Meter", the business data analysis support system "Knowledge Probe 5", and the KIBIT engine as APIs. We provide and sell on Microsoft Azure such as "KIBIT – Connect".Following these, in the life science field targeting medical institutions, research / educational institutions, pharmaceutical companies, etc., using the AI ​​engine "Concept Encoder (trademark: concept encoder, reading: concept encoder)" specialized in the life science field. We will also provide and sell products.
 Amanogawa is PubMed1)This is a system that detects and analyzes articles related to keywords, hypotheses, and abstracts (article abstracts) entered by the searcher from the articles published in.It has been introduced by pharmaceutical companies and universities because it is highly evaluated for its ability to find the desired treatise in a short time from a huge number of treatises and its high searchability. With the launch on Microsoft Azure, an environment has been created in which more users can use this system smoothly.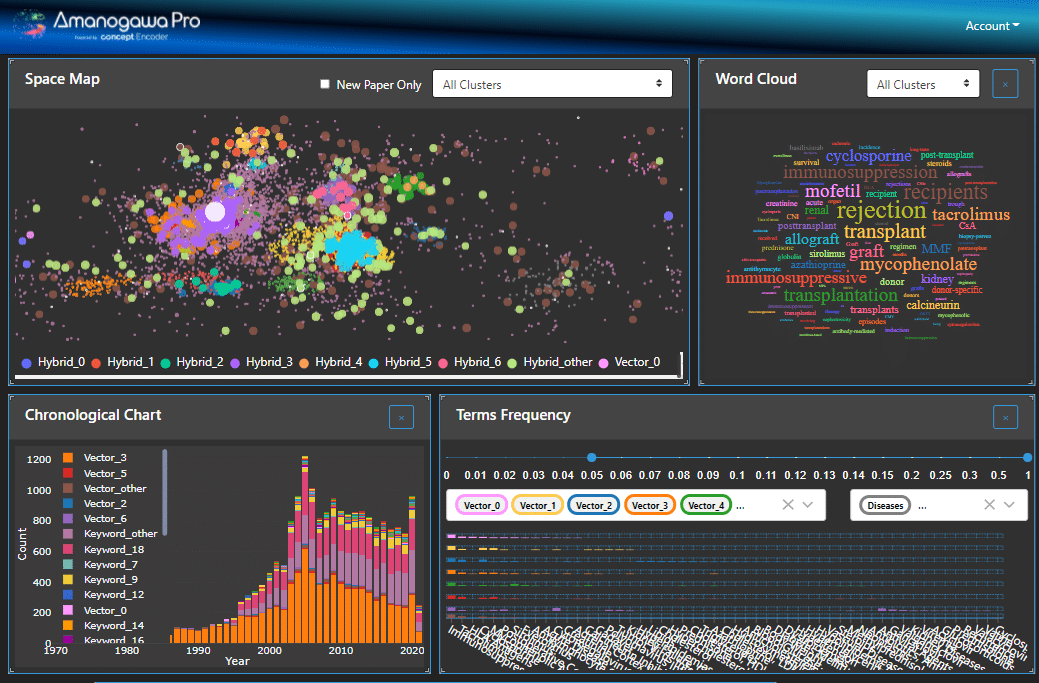 "Amanogawa" application screen example. Each point of "Space Map" shows a treatise
Microsoft Japan Co., Ltd.
Comment from Mr. Norihiro Oyama, Executive Officer, General Manager of Medical and Pharmaceutical Sales Division
 "We sincerely welcome FRONTEO Inc. to provide Amanogawa on Microsoft Azure.
 We hope that FRONTEO's high-precision natural language processing AI will be provided on Microsoft Azure, a flexible and highly available cloud platform, which will contribute to hypothesis testing by a wide range of researchers and to new drug development.
 Advanced analytical computing and storage services that enable processing of big data are fully managed on Microsoft Azure, and are suitable for cost performance without being aware of the increase in data volume and concentration of access. Service development is possible in the form.
 In addition, Microsoft's cloud service has 3 ministries and 2 guidelines.2)We comply with international rules regarding medical information, and comply with the strictest levels of security and privacy standards in the industry.
 In order to contribute to the spread and development of safe and secure medical AI services, we will continue to work closely with FRONTEO toward the social implementation of medical AI platforms. "
 FRONTEO will continue to work on improving usability and promoting DX (digital transformation) by diversifying the form of providing its own AI solutions and expanding the services that can be used on the cloud.
1) Biomedical paper database operated by the National Center for Biological Sciences, National Library of Medicine
2) Two guidelines established by the Ministry of Health, Labor and Welfare, the Ministry of Economy, Trade and Industry, and the Ministry of Internal Affairs and Communications that businesses handling medical information should comply with (Ministry of Health, Labor and Welfare "Guidelines for Safety Management of Medical Information Systems", Ministry of Economy, Trade and Industry, General Affairs Ministry of Internal Affairs and Communications "Safety management guidelines for information system and service providers that handle medical information")

■ About FRONTEO
 URL:
https://www.fronteo.com/
FRONTEO uses the in-house developed AI engine "KIBIT" and "concept encoder" specializing in natural language processing to extract meaningful and important information from a huge amount of text data to support corporate business. A data analysis company. Since its establishment in August 2003, it has been expanding globally to Japan, the United States, South Korea, and Taiwan, focusing on legal tech businesses such as "e-discovery (electronic discovery)" and "digital forensic investigation" that support international litigation of companies. Has been deployed.Based on the AI ​​technology cultivated in the legal tech business, we expanded the business field to the life science field, business intelligence field, and economic security from 8, and by using AI to "turn text data into knowledge" , Drug discovery support, dementia diagnosis support, financial / personnel / sales support, etc., contributing to solving various corporate issues. Listed on TSE Mothers on June 2014, 2007. Obtained a first-class medical device manufacturing and sales business license in January 6 (permit number: 26B2021X1), and notified the managed medical device sales business in April of the same year (notification number: 13 Minato Misei Equipment No. 1).The capital is 10350 thousand yen (as of March 9, 3).
■ About Amanogawa
 URL:
URL: https://lifescience.fronteo.com/aidiscovery/amanogawa/
"Amanogawa (patent pending)" is a treatise search AI system equipped with FRONTEO's original AI engine "Concept Encoder".When a researcher inputs a sentence such as a word or hypothesis of interest, Concept Encoder instantly detects the article related to the input content from the large number of articles published in PubMed.
The search results are plotted in a map according to the similarity between the articles, the relevance can be confirmed at a glance, and the article information detected on the map is dragged to narrow down the search, which is a visual article that has never been seen before. You can search.Search results are listed in descending order of relevance, and abstracts are listed, greatly streamlining the search for treatises.This supports the discovery of events and new drug targets that are difficult for humans to notice.
■ About Communication Meter
 URL:
https://kibit.fronteo.com/products/communication-meter/
"Communication Meter" is a mail & chat audit system equipped with the natural language processing AI engine "KIBIT" developed by FRONTEO. KIBIT uses a unique algorithm to capture similarities and contexts even in different expressions and extract the features of sentences, eliminating excessive extraction due to a large number of keyword settings and omissions due to notational fluctuations, with high accuracy. Message extraction is possible.In addition, KIBIT comprehensively analyzes the text and attachments (text-extractable) as well as the date and time of transmission / reception, the name of the sender / receiver, and the subject, and it is possible to narrow down the messages that need to be investigated from a large number of messages. Therefore, the work of auditors will be significantly reduced, an efficient audit system will be built, and it will contribute to early detection of fraud and prevention of recurrence.
■ About Concept Encoder
 URL:
https://lifescience.fronteo.com/technology/conceptencoder/
"Concept Encoder" is a natural language analysis AI (artificial intelligence) developed by FRONTEO specially in the life science field.It was developed in 2018 with the aim of effectively analyzing and utilizing medical data containing a large amount of free-form text data based on evidence. Concept Encoder can be co-analyzed with data other than text, and we are conducting research on co-analysis with numerical data such as gene expression information, vitals, and various test values ​​accumulated in the life science field.Patent registration number: Patent No. 6346367
■ About KIBIT
 URL:
https://www.fronteo.com/products/kibit/
"KIBIT" is an artificial intelligence that analyzes text without relying on keywords, using a unique machine learning algorithm that reproduces the "tacit knowledge" possessed by specialists and business experts.With high natural language processing technology, high-precision analysis can be performed in a short time with a small amount of teacher data, contributing to operational efficiency and sophistication in fields such as fraud investigation, intellectual property strategy, skill transfer, and risk prediction. doing.
* FRONTEO, Amanogawa, Knowledge Probe, KIBIT, and concept encoder are registered trademarks of FRONTEO in Japan.
* Microsoft and Azure are registered trademarks or trademarks of Microsoft Corporation in the United States and other countries.
<Contact information for the press>
PR Department, FRONTEO, Inc.
Email: pr_contact@fronteo.com
Inquiries concerning Life Science AI Business
Life Science AI Business Department, FRONTEO, Inc.