2021.07.12
Press release
--To the press -
FRONTEO strengthens usability of accuracy verification function of trained model of AI review tool "KIBIT Automator"
FRONTEO Inc.
Masahiro Morimoto, President and CEO
2-12-23 Konan, Minato-ku, Tokyo
(Code number: 2158 TSE Mothers)
FRONTEO Inc. (Headquarters: Minato-ku, Tokyo, President: Masahiro Morimoto, hereafter FRONTEO) is using the AI ​​review tool "KIBIT Automator" equipped with the AI ​​"KIBIT" developed in-house. We are announcing that we will enhance the usability of performance prediction and performance verification and release it as "KIBIT Automator 5.12".
The amount of data managed by companies is increasing year by year.In discovery (discovery procedure) and digital forensics (fraud investigation), which collect data that can reach several TB per evidence holder (castdian), documents that lead to evidence are selected from a huge amount of documents. It had to be found within a limited period of time, and time, quality of investigation, and cost were major issues for the legal department and lawyers involved in the lawsuit.Among them, the process called "review (browsing)" is said to occupy 7% to 8% of the time and cost in the discovery and digital forensics processes, and reviews using technology (computer and AI) (TAR: Technology). The need for Assisted Review) is increasing.
In 2019, FRONTEO developed the AI ​​review tool "KIBIT Automator" to meet this need. KIBIT Automator contains multiple algorithms that make up KIBIT.For example, in addition to the basic algorithm "Landscaping" that demonstrates learning ability even with a small amount of teacher data, which has been improved since its release in 2012, the original ensemble learning "Illumination" that is especially effective when the ratio of teacher data is large. KIBIT includes "Forest" (released in January 2020) and "Illumination Forest + Meta" (released in October 1) that can improve accuracy by considering the creator / sender of mails and files and date information. This is an example of the algorithm used in.These are used properly according to the nature of the text data handled in fraud investigation / litigation cases and the purpose of search, and the Illumination Forest system algorithm has been widely used in cases in Japan and the United States since its release last year.
In addition, the selection of these algorithms requires knowledge of natural language processing and statistical analysis, but at FRONTEO, a data scientist dedicated to the legal tech field has built a system to support the selection of algorithms by lawyers.The feature with improved usability this time is the Recall Rate.1And Precision Rate2, Cutoff point3It gives you the flexibility to choose data for KBIT Automator's core function of predicting, making it easier than ever to validate algorithms such as Illumination Forest.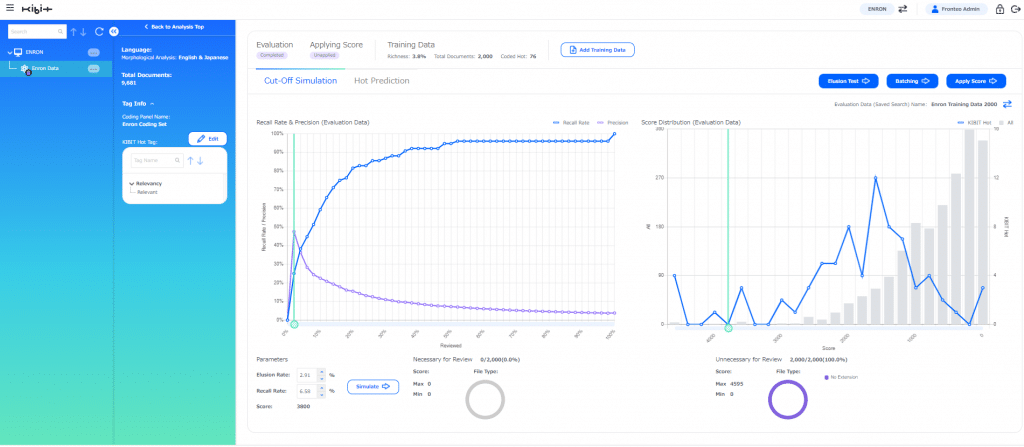 Figure: Recall rate & Precision rate measurement screen
In forensics and discovery, the concentration of evidence documents varies greatly from case to case.In addition, in a large-scale survey project, it is necessary to create multiple trained models for multiple text data groups with significantly different characteristics.By selecting the type of algorithm according to the difference in density and the characteristics of the text data and mastering multiple algorithms, more precise analysis that leads to cost reduction and accuracy improvement becomes possible.
As a digital forensic / discovery vendor that will continue to provide its own tools, FRONTEO will continue to work on improving algorithms and improving application functions and usability to master the algorithms, and by enhancing AI support capabilities by data scientists in the future. In addition to responding to the increase in the volume of surveyed data, which is expected to continue, we will contribute to improving the accuracy of Asian language processing.
1 Recall rate: Percentage of all surveyed data that includes data that is evaluated as "relevant as evidence"
2 Precision rate: The percentage of all data scored by AI as "relevant" that actually includes data that is evaluated as relevant.
3 Cut-off point: A number that shows what percentage of the data that AI is highly relevant as evidence to the top percentage of the arranged data that humans can check to avoid viewing the rest of the data.
■ KIBIT Automator URL: https://legal.fronteo.com/products/kibit-automator/
"KIBIT Automator" improves the efficiency of document review work in electronic discovery (e-discovery), reduces the burden on workers, and reduces costs, among other discoveries required in the trial proceedings of US civil proceedings. An AI tool developed for the purpose, released in March 2019.We apply the research method used in discovery and utilize AI to examine and analyze large-capacity e-mails and electronic files that are evidence materials.In recent years, it is expected to respond to the short-term information disclosure required of companies.
■FRONTEO  URL: https://www.fronteo.com/
FRONTEO uses the in-house developed AI engine "KIBIT" and "concept encoder" specializing in natural language processing to extract meaningful and important information from a huge amount of text data to support corporate business. A data analysis company. Since its establishment in August 2003, it has been expanding globally to Japan, the United States, South Korea, and Taiwan, focusing on legal tech businesses such as "e-discovery (electronic discovery)" and "digital forensic investigation" that support international litigation of companies. Has been deployed.Based on the AI ​​technology cultivated in the legal tech business, we expanded the business field to the life science field, business intelligence field, and economic security from 8, and by using AI to "turn text data into knowledge" , Drug discovery support, dementia diagnosis support, financial / personnel / sales support, etc., contributing to solving various corporate issues. Listed on TSE Mothers on June 2014, 2007. January 6, 26 Obtained a first-class medical device manufacturing and sales license (permit number: 2021B1X13).The capital is 13 thousand yen (as of March 1, 10350).
* FRONTEO, KIBIT, and concept encoder are registered trademarks of FRONTEO in Japan.
<Contact information for the press>
Public Relations Officer, FRONTEO Inc. Takigawa
FAX: 03-5463-6345 Email: pr_contact@fronteo.com