2021.06.25
Press release
--To the press -
FRONTEO Korea and KITRI conclude business agreement for the purpose of developing next-generation security human resources and technical cooperation
FRONTEO Inc.
Masahiro Morimoto, President and CEO
2-12-23 Konan, Minato-ku, Tokyo
(Code number: 2158 TSE Mothers)
FRONTEO Inc. (Headquarters: Minato-ku, Tokyo, President: Masahiro Morimoto, hereafter FRONTEO) is pleased to announce that FRONTEO Korea, Inc. Korea Information Technology Research Institute (Director: Akira Yanagi, hereafter KITRI) aimed at developing next-generation security human resources and technical cooperation at FRONTEO Korea (Korean City, South Korea) on Thursday, June 6. We announce that we have signed a business agreement.
At the signing ceremony on this day, Mr. Yoo Ho-jun, the director of the BoB (Best of Best) center at KITRI, and related parties including Kang, the representative of FRONTEO Korea, attended and signed a contract on mutual cooperation.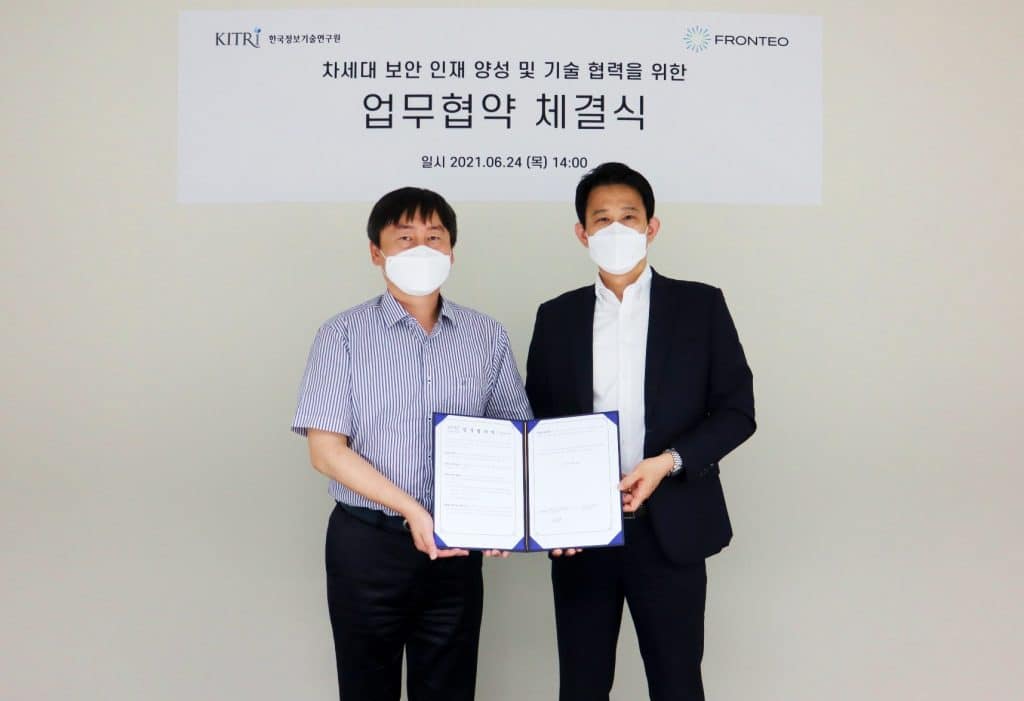 KITRI BoB Center Director Yoo Ho-jun (left photo) and FRONTEO Korea representative Kang Sang-jung
The purpose of this agreement is to build a discovery infrastructure and technology exchange for the development of next-generation security human resources, and both parties will cooperate to promote the following.
・ Development of security experts through sharing of technology and information (digital forensics and discovery)
・ Promotion of software infrastructure construction for digital data analysis and discovery training within KITRI
KITRI BoBComment from Director Yoo Ho-jun
"We can work with FRONTEO to implement discovery training software on 10 hardware units in BoB and strengthen students' skills through the same infrastructure construction and practice as they are used in the field. I'm expecting it. "
FRONTEO KoreaComment from representative Kang Sang-jung
"Demand for digital forensics and discovery is steadily increasing in Korea as well, and there is an urgent need to develop specialists. We are pleased to work with BoB, Korea's best security leader training program, and discover through this initiative. We will contribute to the training of professional human resources and the further increase of the user base. "
■ KITRI BoB(Best of Best)
This is a next-generation security leader training program implemented by the Korea Institute of Information Technology (KITRI) with the aim of "solving national security issues through the development of excellent human resources who are good at information security." From the start of the first term of 2012 to the ninth term of 1, a total of 2020 security experts have been produced.
■FRONTEO  URL: https://www.fronteo.com/
FRONTEO uses the in-house developed AI engine "KIBIT" and "concept encoder" specializing in natural language processing to extract meaningful and important information from a huge amount of text data to support corporate business. A data analysis company. Since its establishment in August 2003, it has been expanding globally to Japan, the United States, South Korea, and Taiwan, focusing on legal tech businesses such as "e-discovery (electronic discovery)" and "digital forensic investigation" that support international litigation of companies. Has been deployed.Based on the AI ​​technology cultivated in the legal tech business, we expanded the business field to the life science field, business intelligence field, and OSINT from 8, and created by using AI to "turn text data into knowledge". We contribute to solving various corporate issues such as drug support, dementia diagnosis support, financial, human resources, and sales support. Listed on TSE Mothers on June 2014, 2007. January 6, 26 Obtained a first-class medical device manufacturing and sales license (permit number: 2021B1X13).The capital is 13 thousand yen (as of March 1, 10350).
* FRONTEO, KIBIT, and concept encoder are registered trademarks of FRONTEO in Japan.
<Contact information for the press>
Public Relations Officer, FRONTEO Inc. Takigawa
FAX: 03-5463-6345 Email: pr_contact@fronteo.com