2021.06.22
Press release
--To the press -
FRONTEO obtains patent approval in Japan for drug discovery support AI "Cascade Eye"
FRONTEO Inc.
Masahiro Morimoto, President and CEO
2-12-23 Konan, Minato-ku, Tokyo
(Code number: 2158 TSE Mothers)
 FRONTEO Inc. (Headquarters: Minato-ku, Tokyo, President: Masahiro Morimoto, hereinafter FRONTEO) has received a patent approval notice from the Japan Patent Office regarding the drug discovery support AI "Cascade Eye".
Application number: Special application 2020-114658 * Registration number not given
Patent filing date: January 2020, 7
 "Cascade Eye (https://lifescience.fronteo.com/aidiscovery/cascade-eye/) "Analyzes paper information and medical information using FRONTEO's natural language analysis AI engine" Concept Encoder (trademark: concept encoder, reading: concept encoder) ", and pathways molecules and genes related to the disease to be analyzed. It is an AI system that displays in the form of a map (route map showing relevance).Visualize the relationships between molecules and genes, greatly streamline the target search process in drug discovery research, and the possibility of new diversion of existing drugs to other diseases and biomarkers that have not been discovered. It enables a drug discovery approach that was difficult with conventional methods alone, such as identification of genes.Since its launch in 2020, it has been highly evaluated for its ability to propose new drug discovery targets that are not affected by researcher bias and its ability to comprehensively search for vast amounts of information that cannot be read by humans. , Has been introduced in multiple pharmaceutical companies and universities.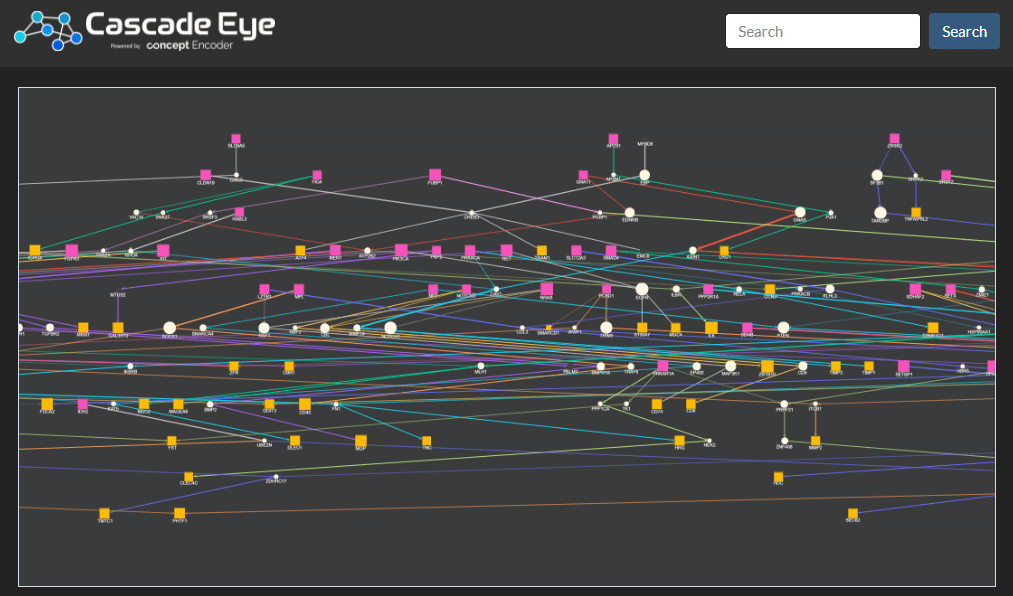 Part of the pathway map built by Cascade Eye
 FRONTEO will evolve data utilization in the life science field, such as establishing methods for utilizing medical data and expanding the scope of utilization, and will work on research and development of AI that is useful in clinical practice beyond human creativity and bias. ..

■ About Concept Encoder
URL:https://lifescience.fronteo.com/technology/conceptencoder/
"Concept Encoder" is a natural language analysis AI (artificial intelligence) developed by FRONTEO specially in the life science field.It was developed in 2018 with the aim of effectively analyzing and utilizing medical data containing a large amount of free-form text data based on evidence. Concept Encoder can be co-analyzed with data other than text, and we are conducting research on co-analysis with numerical data such as gene expression information, vitals, and various test values ​​accumulated in the life science field.Patent registration number: Patent No. 6346367

■ About FRONTEO URL:https://www.fronteo.com/
FRONTEO uses the in-house developed AI engine "KIBIT" and "concept encoder" specializing in natural language processing to extract meaningful and important information from a huge amount of text data to support corporate business. A data analysis company. Since its establishment in August 2003, it has been expanding globally to Japan, the United States, South Korea, and Taiwan, focusing on legal tech businesses such as "e-discovery (electronic discovery)" and "digital forensic investigation" that support international litigation of companies. Has been deployed.Based on the AI ​​technology cultivated in the legal tech business, we expanded the business field to the life science field, business intelligence field, and economic security from 8, and by using AI to "turn text data into knowledge" , Drug discovery support, dementia diagnosis support, financial / human resources / sales support, etc., contributing to solving various corporate issues. Listed on TSE Mothers on June 2014, 2007. January 6 Obtained a first-class medical device manufacturing and sales license (permit number: 26B2021X1).The capital is 13 thousand yen (as of March 1, 10350).

* FRONTEO, KIBIT, conceptencoder, and Cascade Eye are registered trademarks of FRONTEO in Japan.
<Contact information for the press>
Public Relations Officer, FRONTEO Inc. Segawa
Email: pr_contact@fronteo.com
<Inquiries about Life Science AI Business>
FRONTEO Inc. Life Science AI Business Headquarters