2021.06.03
Press release
--To the press -
FRONTEO Starts Development of New Security System for Introduction of Secret Calculation Technology in AI Medical Devices
To build a high level of security that supports the handling of medical information
FRONTEO Inc.
Masahiro Morimoto, President and CEO
2-12-23 Konan, Minato-ku, Tokyo
(Code number: 2158 TSE Mothers)
 FRONTEO Inc. (Headquarters: Minato-ku, Tokyo, President: Masahiro Morimoto, hereinafter FRONTEO) has recently started the development of secret calculation technology.
 Secret calculation is a technology that performs calculation and analysis while keeping data confidential (encrypted).Conventionally, in data utilization, the collected raw data is stored in a concealed state for information protection, but when it is used for analysis, statistical processing, machine learning, etc., it is the state of the original raw data. I had to go back to.Therefore, the problem was that the risk of information leakage and unauthorized use at this stage could not be eradicated.On the other hand, in secret calculation, since information processing is performed with confidential data as it is, there is no possibility of such a risk, and the confidentiality of data can be reliably maintained in all processes.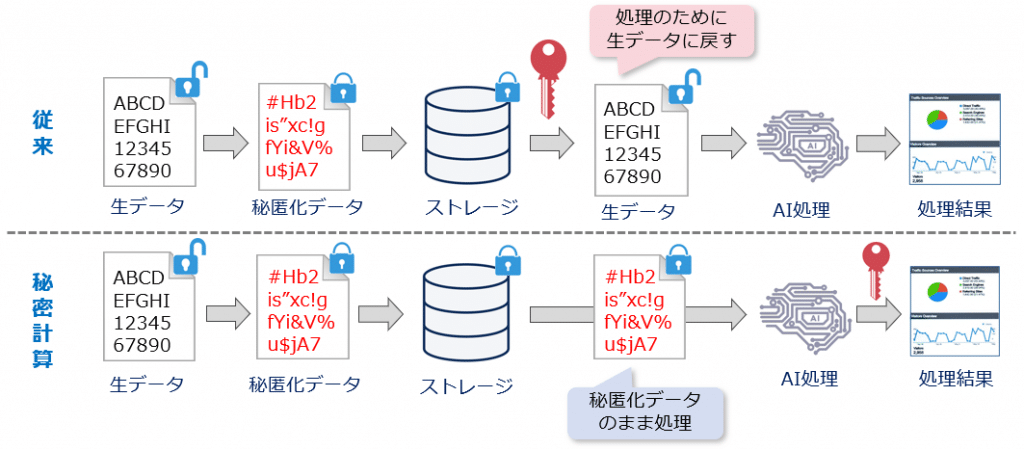 FRONTEO is developing and developing AI medical devices such as the "Conversational Dementia Diagnosis Support AI Program" currently in clinical trials, medical information analysis AI system, drug discovery support AI system, etc. We operate and handle complex and advanced medical information such as interview / conversation information in clinical trials, information written in electronic charts, and research data held by pharmaceutical companies / academia.These medical information include personal information and confidential information, and their handling requires a strict management system and a high level of security.
 By introducing secret calculation technology, FRONTEO will ensure the confidentiality of data and build an environment where data holders such as patients, medical institutions, and companies can provide data with peace of mind.

■ About conversational dementia diagnosis support program
URL:https://lifescience.fronteo.com/aidevice/dementia/
The conversational dementia diagnosis support program (AI medical device) uses FRONTEO's original natural language analysis AI "Concept Encoder (trademark: concept encoder, reading: concept encoder)" for 5 to 10 minutes between the patient and the doctor. It is a program that can screen for cognitive dysfunction from daily conversation.We believe that this program can contribute to the progress of digital medical care such as telemedicine and the efficiency and standardization of medical care, in addition to measures against dementia, which is an important issue in Japan, which is facing a super-aging society. I will. FRONTEO entered into a business alliance agreement with Kyowa Pharmaceutical Industry Co., Ltd., which aims to become a CNS (central nervous system) total solution company, in June 2020, aiming for early commercialization and early market penetration in the medical field.Patent registration number: Patent No. 6

■ About Concept Encoder
URL:https://lifescience.fronteo.com/technology/conceptencoder/
"Concept Encoder" is a natural language analysis AI (artificial intelligence) developed by FRONTEO specially in the life science field.It was developed in 2018 with the aim of effectively analyzing and utilizing medical data containing a large amount of free-form text data based on evidence. Concept Encoder can be co-analyzed with data other than text, and we are conducting research on co-analysis with numerical data such as gene expression information, vitals, and various test values ​​accumulated in the life science field.Patent registration number: Patent No. 6346367

■ About FRONTEO URL:https://www.fronteo.com/
FRONTEO uses the in-house developed AI engine "KIBIT" and "concept encoder" specializing in natural language processing to extract meaningful and important information from a huge amount of text data to support corporate business. A data analysis company. Since its establishment in August 2003, it has been expanding globally to Japan, the United States, South Korea, and Taiwan, with a focus on legal tech businesses such as "e-discovery (electronic discovery)" and "digital forensic investigation" that support international litigation of companies. Has been deployed.Based on the AI ​​technology cultivated in the legal tech business, we expanded the business field to the life science field, business intelligence field, and OSINT from 8, and created by using AI to "turn text data into knowledge". We contribute to solving various corporate issues such as drug support, dementia diagnosis support, financial, human resources, and sales support. Listed on TSE Mothers on June 2014, 2007. January 6 Obtained a first-class medical device manufacturing and sales license (permit number: 26B2021X1).The capital is 13 thousand yen (as of March 1, 10350).

* FRONTEO, KIBIT, and concept encoder are registered trademarks of FRONTEO in Japan.
<Contact information for the press>
Public Relations Officer, FRONTEO Inc. Segawa
Email: pr_contact@fronteo.com
<Inquiries about Life Science AI Business>
FRONTEO Inc. Life Science AI Business Headquarters