2021.05.17
Press release
--To the press -
FRONTEO expands life science AI business
Expand business in two strategic areas: "Medical Device area" for digital medical devices and software, and "Medical Intelligence area" for drug discovery, medical information utilization, and regulatory compliance support.
FRONTEO Inc.
Masahiro Morimoto, President and CEO
東京 都 港区 港 南 2-12-23
(Code number: 2158 TSE Mothers)
 FRONTEO Inc. (Headquarters: Minato-ku, Tokyo, President: Masahiro Morimoto, hereinafter FRONTEO) has expanded its life science AI business with two priority strategic areas: "Medical Device area" and "Medical Intelligence area". We announce that we will develop our business.
 In the "Medical Device area," AI medical devices and software for medical institutions, such as the "conversational dementia diagnosis support AI system," which is currently undergoing clinical trials, the fall prediction system "Coroban," and the "fracture screening AI program." Expand the development of. FRONTEO obtained a license for the first-class medical device manufacturing and sales business from Tokyo in January this year (license number: 1B13X1), and is involved in the process from technology development, product development, clinical development, manufacturing, and sales of AI medical devices. We have built a system that can be done independently.In the future, we will not only develop and sell AI medical devices that are currently underway, but also actively promote research and development of new products to expand the pipeline.
 In the "Medical Intelligence area," we will develop products that support DX (digital transformation) from various angles in response to growing needs for AI utilization in the medical and drug discovery areas of companies and academia. In addition to the article search AI "Amanogawa (trademark pending)" and target search support AI "Cascade Eye (trademark pending)" that have been on sale since 2020, we will support compliance with various regulations and industry rules in the pharmaceutical industry. Information that requires a high degree of specialization, such as literature information and medical information, by providing solutions that provide diagnosis and medical care support from a huge amount of highly specialized medical information such as "Guideline Viewer (trademark pending)" and electronic medical records. We will respond appropriately and promptly to the needs for processing and analysis of the above, and further expand our business.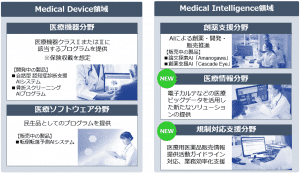 FRONTEO will continue to realize "fairness in the information society" in the healthcare field through the development and provision of AI medical devices / software and business support systems.

■FRONTEO  URL:https://www.fronteo.com/
FRONTEO uses the in-house developed AI engine "KIBIT" and "concept encoder" specializing in natural language processing to extract meaningful and important information from a huge amount of text data to support corporate business. A data analysis company. Since its establishment in August 2003, it has been expanding globally to Japan, the United States, South Korea, and Taiwan, with a focus on legal tech businesses such as "e-discovery (electronic discovery)" and "digital forensic investigation" that support international litigation of companies. Has been deployed.Based on the AI ​​technology cultivated in the legal tech business, we expanded the business field to the life science field, business intelligence field, and OSINT from 8, and created by using AI to "turn text data into knowledge". We contribute to solving various corporate issues such as drug support, dementia diagnosis support, financial, human resources, and sales support. Listed on TSE Mothers on June 2014, 2007. January 6 Obtained a first-class medical device manufacturing and sales license (permit number: 26B2021X1).The capital is 13 thousand yen (as of March 1, 10350).
* FRONTEO, KIBIT, and concept encoder are registered trademarks of FRONTEO in Japan.
<Contact information for the press>
Public Relations Officer, FRONTEO Inc. Segawa
Email: pr_contact@fronteo.com
<Inquiries about Life Science AI Business>
FRONTEO Inc. Life Science AI Business Headquarters