2021.05.06
Press release
--To the press -
FRONTEO Launches "Guideline Viewer", a Professional Business Support AI System for Pharmaceutical Companies
AI detects important management information contained in daily reports and materials, reducing the burden of confirmation work
FRONTEO Inc.
Masahiro Morimoto, President and CEO
東京 都 港区 港 南 2-12-23
(Code number: 2158 TSE Mothers)
 FRONTEO Inc. (Headquarters: Minato-ku, Tokyo, President: Masahiro Morimoto, hereinafter FRONTEO) has started offering "Guideline Viewer (trademark pending)", a specialized business support AI system that supports the promotion activities of pharmaceutical companies. Did.
 FRONTEO utilizes the artificial intelligence "KIBIT" that was originally developed, and risks from various text data such as the audit system "Communication Meter (trademark pending)" that supports text communication such as e-mail and chat, and business records. We provide various solutions that support risk detection and operational efficiency in corporate activities, such as the business data analysis support system "Knowledge Probe" that discovers opportunities. Guideline Viewer is software that is optimized for the regulations and needs specific to pharmaceutical companies based on these technologies.
 From 2019, the Ministry of Health, Labor and Welfare's "Guidelines for Sales Information Provision Activities for Medical Drugs" will be applied to pharmaceutical companies to ensure the appropriateness of information used for sales of medical drugs, and to evaluate and educate sales information provision activities. It was obligatory to set up a supervisory department.In addition to product explanation pamphlets, we monitor a wide range of items such as MR (medical representative) business records, e-mails, and presentation slides, and we have established detailed regulations for each to ensure compliance.
 Guideline Viewer allows AI to analyze sales information provision materials and business records of pharmaceutical companies, check whether there are any points that violate the guidelines, and extract important documents / parts that the supervisory department should particularly check. As a result, it is possible to suppress differences in the criteria and accuracy of examinations by humans (leveling examinations) and significantly reduce the burden of examination work.
Guideline Viewer lineup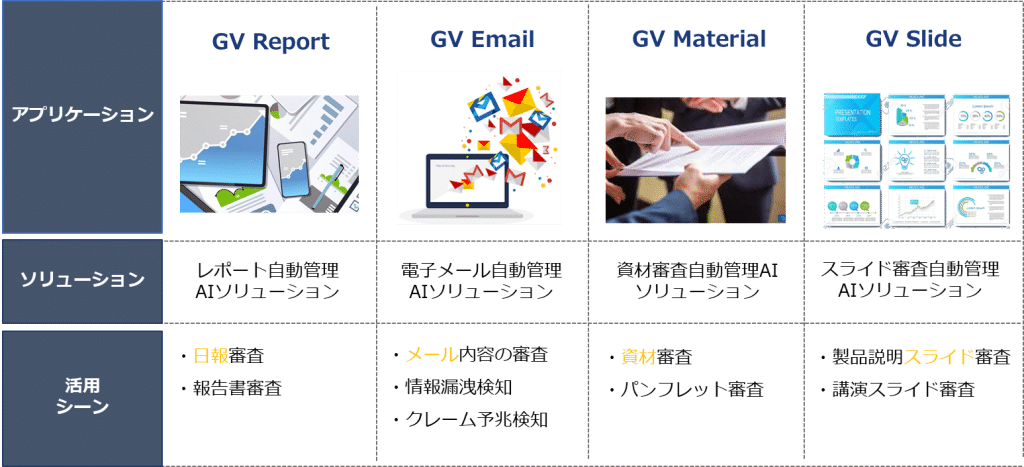 FRONTEO will contribute to the promotion of DX (digital transformation) of pharmaceutical companies and the further efficiency of operations by providing the drug discovery support AI system and this system.
■ About KIBIT URL:URL: https://www.fronteo.com/products/kibit/
"KIBIT" is artificial intelligence that uses a unique machine learning algorithm that reproduces the "tacit knowledge" possessed by experts and business experts without relying on keywords in text analysis.It has high natural language processing technology and enables highly accurate analysis in a short time with a small amount of teacher data.
■About FRONTEO URL:https://www.fronteo.com/
FRONTEO uses the in-house developed AI engine "KIBIT" and "concept encoder" specializing in natural language processing to extract meaningful and important information from a huge amount of text data to support corporate business. A data analysis company. Since its establishment in August 2003, it has been expanding globally to Japan, the United States, South Korea, and Taiwan, with a focus on legal tech businesses such as "e-discovery (electronic discovery)" and "digital forensic investigation" that support international litigation of companies. Has been deployed.Based on the AI ​​technology cultivated in the legal tech business, we expanded the business field to the life science field, business intelligence field, and OSINT from 8, and created by using AI to "turn text data into knowledge". We contribute to solving various corporate issues such as drug support, dementia diagnosis support, financial, human resources, and sales support. Listed on TSE Mothers on June 2014, 2007. January 6 Obtained a first-class medical device manufacturing and sales license (permit number: 26B2021X1).The capital is 13 thousand yen (as of March 1, 10350).
* FRONTEO, KIBIT, and concept encoder are registered trademarks of FRONTEO in Japan.
<Contact information for the press>
Public Relations Officer, FRONTEO Inc. Segawa
Email: pr_contact@fronteo.com
<Inquiries about Life Science AI Business>
FRONTEO Inc. Life Science AI Business Headquarters