2021.04.19
Press release
--To the press -
FRONTEO announces next-generation e-discovery platform
Expanded the functions of the AI ​​review tool "KIBIT Automator" as the cornerstone of FRONTEO's portfolio transformation.Consistent response from pre-processing to review of collected data is possible.
FRONTEO Inc.
Masahiro Morimoto, President and CEO
2-12-23 Konan, Minato-ku, Tokyo
(Code number: 2158 TSE Mothers)
FRONTEO Inc. (Headquarters: Minato-ku, Tokyo, President: Masahiro Morimoto, hereinafter FRONTEO) has expanded the functions of the AI ​​review tool "KIBIT Automator" (Note 1) provided by FRONTEO Inc. We are announcing that we will start offering it as a next-generation e-discovery platform that can handle everything from preprocessing to reviews.
The amount of data managed by companies is increasing year by year.In the discovery that collects data that can reach several TB per evidence holder (Castdian), it is necessary to find a document that leads to evidence from a huge amount of documents within a limited period of time. Time, quality of investigation, and cost were major issues for the legal department and lawyers involved in litigation.Among them, the process called "review (viewing)" is said to occupy 7% to 8% of the time and cost in the discovery process, and review using technology (computer or AI) (TAR: Technology Assisted Review). The need for is increasing.
To meet this need, FRONTEO released the AI ​​review tool KIBIT Automator (Lit i View add-on tool) in 2019, improving the quality and productivity of reviews of numerous complex international litigation and administrative investigations. I did. KIBIT Automator enables document scrutiny of up to 650 documents (6,500 pages) per hour, reducing document review time and costs by more than 90%.
In addition, FRONTEO has developed the e-discovery support system "Lit i View E-DISCOVERY" for more than 10,000 years, based on the knowledge and know-how cultivated through abundant international proceedings support and fraud investigations totaling more than 10 cases. We have continued to provide it for many years. Lit i View (Note 2) is a one-stop solution for supporting international proceedings, and has a Processing function for preprocessing a wide variety of business documents and a Review function for viewing documents.
By renewing these functions as KIBIT Automator Review (Review function) and KIBIT Automator Processing (Processing function) and linking them to KIBIT Automator, a series of fraud investigation and evidence disclosure operations can be processed as a consistent workflow. Become.In addition, in US proceedings, we have enhanced the functions that make it easier to understand reviews using AI, which has already become commonplace.
【new function】
・ KIBIT Automator Review
It inherits the Lit i View functionality that allows you to view a wide variety of documents and perform reviews with flexible coding panel settings.In addition to the And / Or operation for words, the search function supports advanced searches such as neighborhood search and regular expressions, which are indispensable for Japanese search in eDiscovery.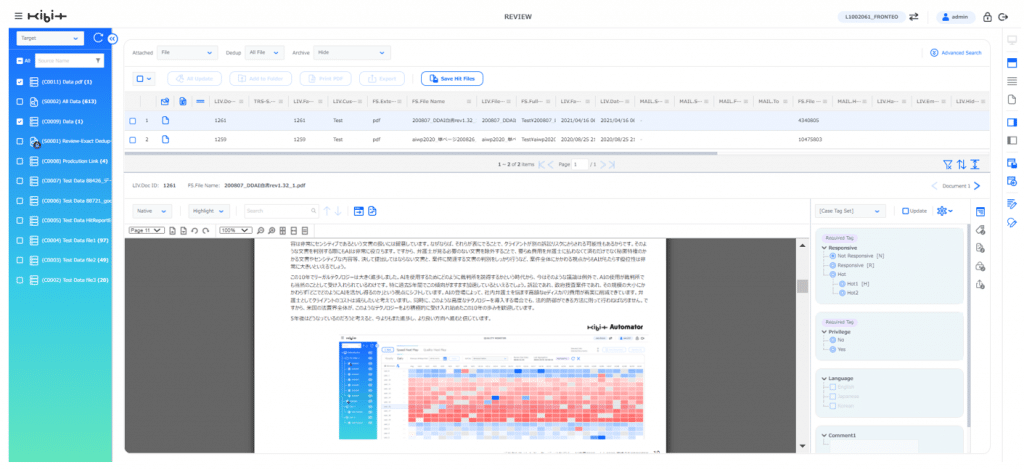 ・ KIBIT Automator Processing
It is possible to narrow down the data by preprocessing a wide variety of business documents.By inheriting the feature of Lit i View that accurately processes Asian languages ​​without garbled characters, and by changing the architect to parallelize, the processing speed is about 3 times faster than Lit i View in preprocessing, and deduplication processing It has improved about 10 times or more.
FRONTEO will contribute to e-discovery and fraud investigation AI by reflecting various know-how cultivated through over 15 years of international litigation support in product development while utilizing in-house developed AI technology. I will.
(Note 1) About KIBIT Automator URL: https://legal.fronteo.com/products/kibit-automator/
"KIBIT Automator" improves the efficiency of document review work in electronic discovery (e-discovery), reduces the burden on workers, and reduces costs, among other discoveries required in the trial proceedings of US civil proceedings. An AI tool developed for the purpose, released in March 2019.We apply the research method used in discovery and utilize AI to examine and analyze large-capacity e-mails and electronic files that are evidence materials.In recent years, it is expected to respond to the short-term information disclosure required of companies.
(Note 2) About Lit i View https://legal.fronteo.com/products/e-discovery/
Lit i View is a solution that covers the eDiscovery process flow (from data processing to document review), offering flexible workflows, powerful search capabilities, and text analysis capabilities.An eDiscovery software that can accurately identify and process Asian character sets and various file applications.
■FRONTEO  URL: https://www.fronteo.com/
FRONTEO uses the in-house developed AI engine "KIBIT" and "concept encoder" specializing in natural language processing to extract meaningful and important information from a huge amount of text data to support corporate business. A data analysis company. Since its establishment in August 2003, it has been expanding globally to Japan, the United States, South Korea, and Taiwan, focusing on legal tech businesses such as "e-discovery (electronic discovery)" and "digital forensic investigation" that support international litigation of companies. Has been deployed.Based on the AI ​​technology cultivated in the legal tech business, we expanded the business field to the life science field, business intelligence field, and OSINT from 8, and created by using AI to "turn text data into knowledge". We contribute to solving various corporate issues such as drug support, dementia diagnosis support, financial, human resources, and sales support. Listed on TSE Mothers on June 2014, 2007. January 6, 26 Obtained a first-class medical device manufacturing and sales license (permit number: 2021B1X13).The capital is 13 thousand yen (as of March 1, 10350).
* FRONTEO, KIBIT, and concept encoder are registered trademarks of FRONTEO in Japan.
<Contact information for the press>
Public Relations Officer, FRONTEO Inc. Takigawa
Email: pr_contact@fronteo.com