Lecture at the Japan Bioindustry Association on the search for candidate drugs for COVID-19 using AI
On Monday, July 2020, 7, Mari Yamamoto, a director of the Company and general manager of the Life Science AI Business Division, announced that "A AI system for drug discovery support against coronavirus"Cascade EyeWe gave a lecture at the Japan Bioindustry Association under the theme of "COVID-19 Candidate Therapeutic Drug Search Project".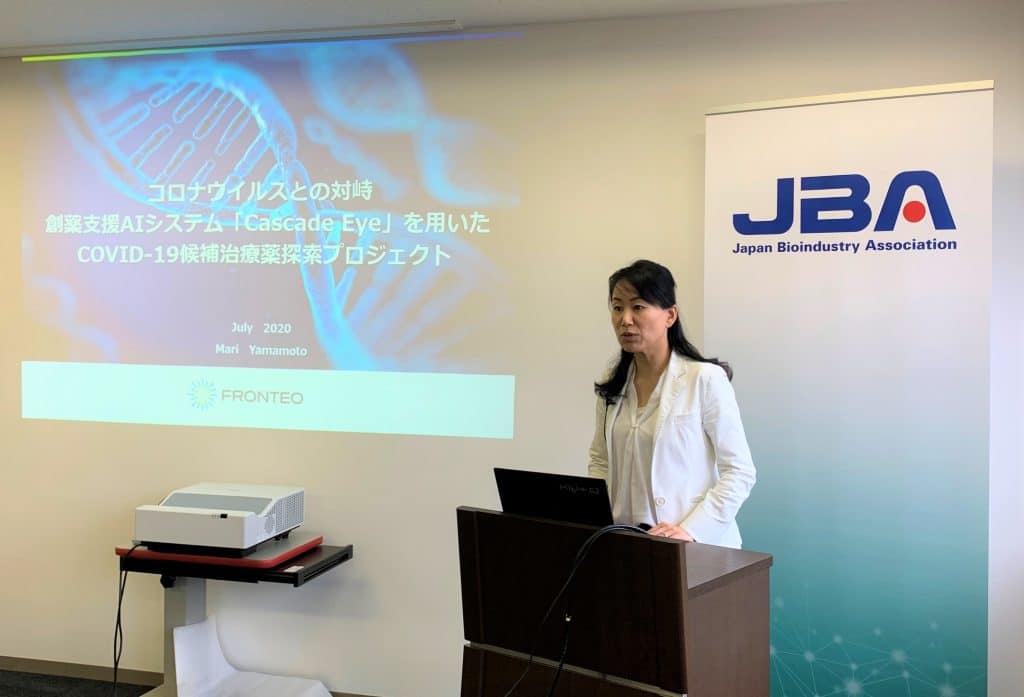 This lecture will be given by FRONTEO's "COMBAT COVID-19This was made possible by the fact that the Japan Bioindustry Association saw the activities and related news and became interested in the drug discovery approach using AI.In the question and answer session on the day, we received questions not only about the possibility of AI drug discovery, but also about the possibility of AI in legal and fraud investigations developed in other departments of our company. I received many questions about solving problems with AI, such as "Is there sex?"It was conveyed that we had high expectations, and we felt that we were tightened.
Regarding FRONTEO's AI-based drug discovery approach, we have received inquiries from various public and private organizations from the beginning of the announcement. AI is not the only technology that gives an answer, but it can suggest possibilities and support people's work and thoughts. FRONTEO will continue to contribute to solving social issues with AI.
Click here for inquiries about "COMBAT COVID-19" and drug discovery support AI
FRONTEO Life Science AI Inquiries