[Introduction of social contribution activities] High school students come to the office for corporate research
Now, in order to prevent the spread of the new coronavirus, people are refraining from coming and going. More than 8% of FRONTEO employees work remotely, but I can't wait to welcome guests inside the company.
This time, we would like to introduce a high school student's visit to a company in December 2019.
Four third-year high school students (at that time) from Chuo University Suginami High School visited the company. I participated in a contest called "Nikkei STOCK League" that conducts corporate research for investment and compiles reports, and he chose FRONTEO as one of the research subjects.
What can AI do from students?In addition to the basic questions such as, we also had a discussion on how to use AI in society.In addition, we received many questions about the working styles of FRONTEO employees, the active participation and welfare of women, and the existence of Ikumen employees, and we heard that they are studying the value of the company from various angles.It is said that the state of the visit and our efforts were well summarized in the report.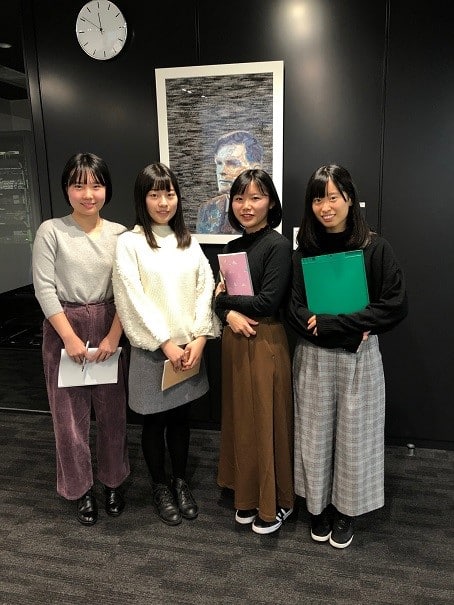 Chuo University Suginami High School during company visits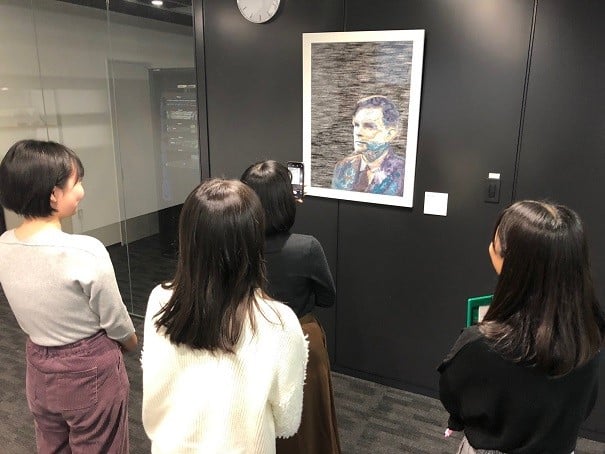 Introducing a picture of "Father of AI" Alan Turing drawn by artificial intelligence The Painting Fool
Everyone who came to the company became a university student from April, and even in a difficult situation, we are making a new start.
FRONTEO has various in-house development and operation bases related to AI.We are looking forward to the day when outsiders can come to our office again.
To apply for an interview / interview here
---
(Addition) It was also introduced on the website of Chuo University Suginami High School.