TOKYO, December 24, 2019 – FRONTEO, Inc. ("FRONTEO") (NASDAQ: FTEO) (TSE: 2158) a leading provider of artificial intelligence ("AI") based big data analysis services, will issue a "LegalTech AI White Paper "summarizing the market size and use trends of the LegalTech (*) industry.
The white paper is the first attempt in the industry to conduct a survey on the market size and use trends not only for the litigation support field, which is the core business of FRONTEO, but also for the entire LegalTech field.
It covers the following LegalTech trends.
New services by ventures – Many attorneys and legal staff are launching startups while market entry by major law firms or from other industries is rare. We believe this is due to the tall barrier to entry that the specialization of the work presents, as well as the mobility ventures have in responding to the speed at which the market is changing during its infancy.


From emergency to ordinary – Pre-2015 legal solutions were mainly for responding to incidents (fraud, litigation, legal trouble, etc.) but from 2015, legal solutions are characterized by the fact that many startups began producing solutions supporting preparatory or preventive legal work such as contract drafting and auditing.


Use of AI – Expectations are extremely high for LegalTech in the field of text (written) information – natural language – analysis.This is because the information involved in legal work or intellectual property has always been large quantities of mainly textual data, of which streamlining through AI is expected to have great effect, so numerous services already boast AI use.
Contents
Prefatory dialogue: What Is the Use of AI in LegalTech?
Introduction to LegalTech
Column: LegalTech in the United States
Corporate Use Trends
Overview of the Survey
Survey method: Online survey
Survey target: People engaged in legal business at companies
Survey period: November 21 – December 3, 2019
Sample size: 505
"Recently, movements to improve business efficiency using AI and advanced technology such as Fintech and HR Tech have accelerated.The legal field is no exception and interest in" LegalTech "aiming to enhance productivity in legal business by utilizing IT and AI is also increasing. LegalTech started in the US and has rapidly spread against the backdrop of imminent needs of close investigation of enormous amounts of electronic data (e-mails and various electronic files) in a procedure in civil suits called "Discovery." LegalTech is entrusted to experts outside Japan as its recognition in Japan is low and the primary utilization method and effectiveness as well as the risk of not utilizing LegalTech is not known in Japan.It is a field in which future development can be expected for Japanese companies and domestic law offices promoting globalization .
As a leading company in the LegalTech AI industry, FRONTEO is delighted to conduct this survey and announce the results to everyone.FRONTEO will continue to strive to introduce the latest LegalTech technology to Japanese companies and support adoption of it, "says Masahiro Morimoto, CEO of FRONTEO.
* LegalTech is a collective term for legal business services utilizing IT technology including AI.It is called xTech together with Fintech and HR Tech, and has become a recent trend in the utilization of IT services.
The "LegalTech AI White Paper" can be downloaded from the URL below.
https://legal.fronteo.com/download
* The white paper is available only in Japanese.
LegalTech Market Size (2019)
The largest share of the LegalTech market is taken up by internal surveys in legal services and intellectual property surveys in intellectual property services.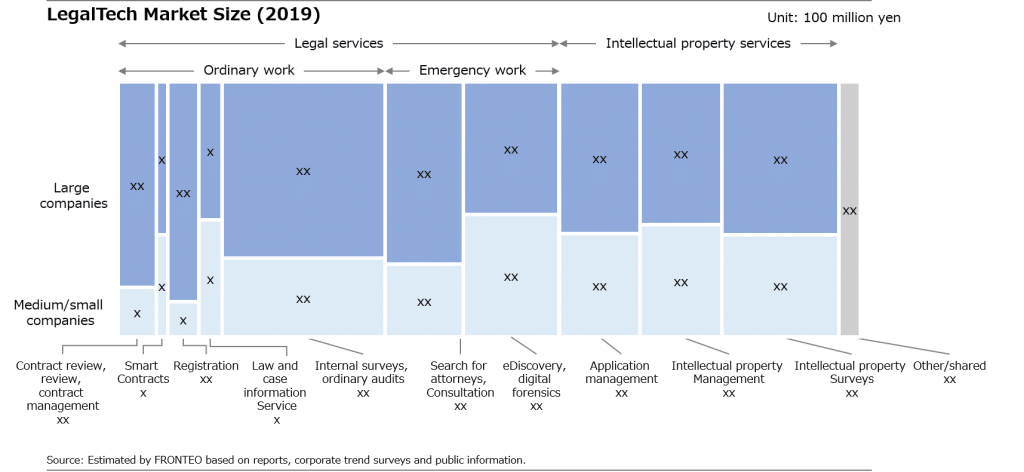 * The actual white paper shows figures indicating market size instead of "xx."
Contract Review is Most Recognized Service Type
Those closely involved in everyday legal work such as "contract review, review, contract management," "law and case information services," "search for lawyers, consultation," "registration," etc. at large, medium and small companies alike indicated recognition.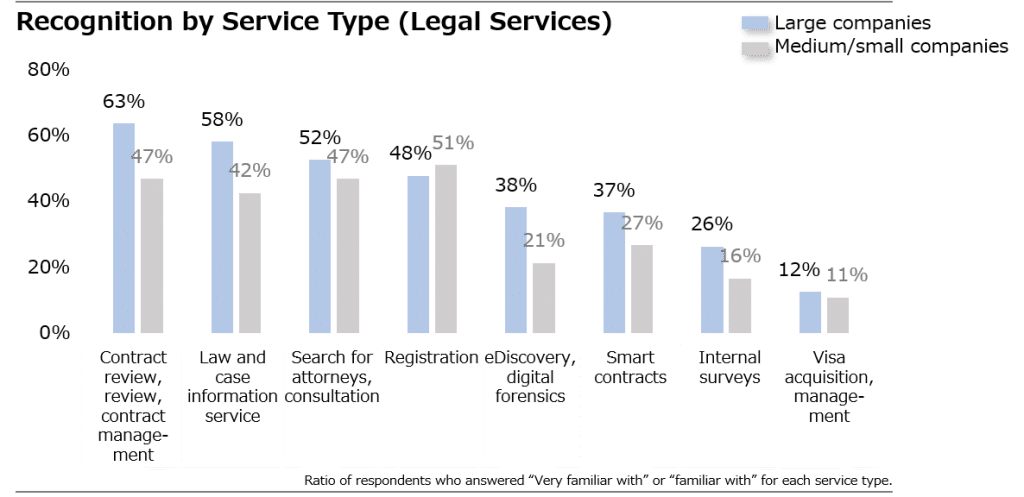 Work to Which LegalTech Could be Applied (Legal)
Expectations are high for LegalTech application to "organizational legal work" and "registration / application work." In "organizational legal work" and "law and case survey" as well as "employee education / awareness-raising," large companies showed significantly greater need than medium or small companies.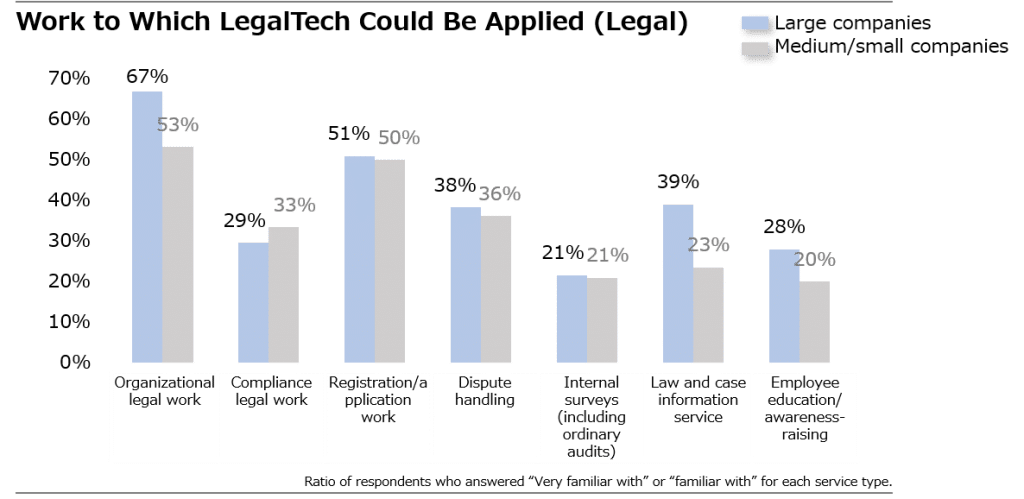 Work to Which LegalTech Could be Applied (Intellectual Property)
In intellectual property, there are strong LegalTech needs for "dispute handling" and "employee education / awareness-raising." However, LegalTech solutions in this field have yet to be established, making actual solutions scarce despite the emerging need.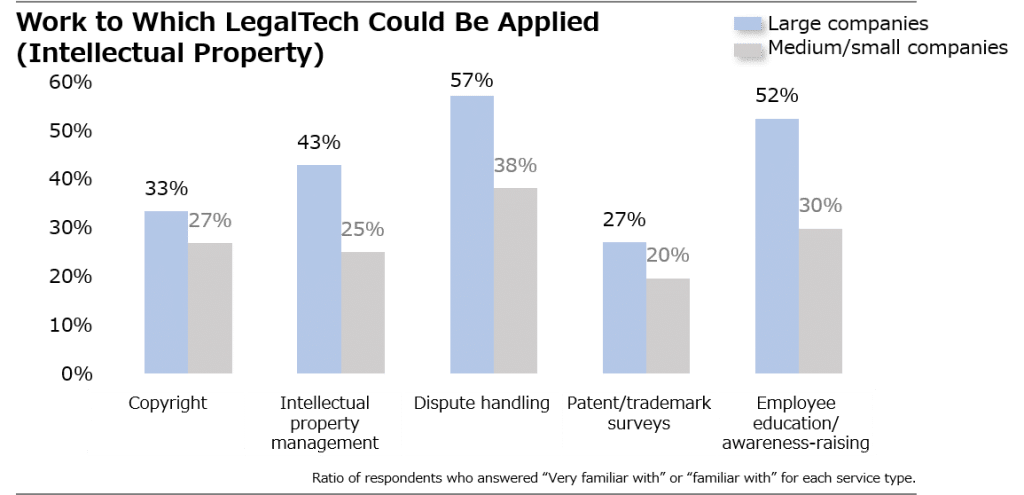 About FRONTEO, Inc.
FRONTEO was founded in Japan in 2003 as a technology-enabled eDiscovery and litigation support services provider.By expertly leveraging proprietary technology to boost operational efficiency, the company has expanded globally and into the healthcare and marketing markets.In the US, FRONTEO leverages the right mix of best-in-class and proprietary technologies to provide ultra-efficient litigation support services across the entire eDiscovery Reference Model (EDRM) .FRONTEO's proprietary AI technology, KIBIT, supports the analysis of big data based on big data analysis, behavior informatics and knowledge acquired through its experience in providing litigation support services.
For more information about FRONTEO, contact global_pr@fronteo.com or visit https://www.fronteo.com/global/ .